Lenovo A1000-G Flash File Stock Firmware ROM
Lenovo_A1000-G_A412_01_24_130329
How to unbrick any Mediatek (MTK) Smartphone using SP Flash Tool
This Tutorial is to guide you on the way to Install Official Stock ROM in any Mediatek Smartphones OR the way to flash your dead android phone using PC. Sometimes thanks to installation of custom ROM, not meant for your device, you regularly find yourself bricking your device. No charging, boot loop or white lines on the screen are a number of the signs of a bricked device.
But you'll revisit to normal through some simple steps which involve, flashing ROM through CWM but sometimes you can't even get into recovery mode but, this isn't the top of your phone. Today we're with a piece of writing about the way to unbrick your phone; you'll even use this method to put in stock ROM. We are getting to use SP Flash Tool, also referred to as "Smart Phone Flash Tool".
Note: don't flash firmware which isn't meant for your device, alternatively your phone are going to be completely dead. Even the SP Flash tool won't detect your phone. So Check the name of zip file carefully.
Requirements:
A PC with Windows or Linux OS.
SP Flash Tool Download
USB Cord
Manually install VCOM drivers on the PC
Your bricked Android device.
Original/Working Stock ROM (Do a correct research as flashing the incorrect ROM would permanently brick your device)
Why does one Need MediTek DA VCOM Drivers
VCOM may be a software that's small in size but useful to several users whos devices are powered bt MTK. This driver helps your Windows PC/ laptop identify your device properly as you device that has an MTK chip can't be found by your Windows PC/Laptop.
How to Install VCOM Drivers for SP Flash Tool:
Open Device manager from My computer. Click on any item & Goto Actions > Add legacy hardware.
Now, Press next & select Install drivers manually.
Press next & click on Have disk.
From the browse option, select the VCOM drivers as per your OS.
Once it's done. you'll see a screen almost like this: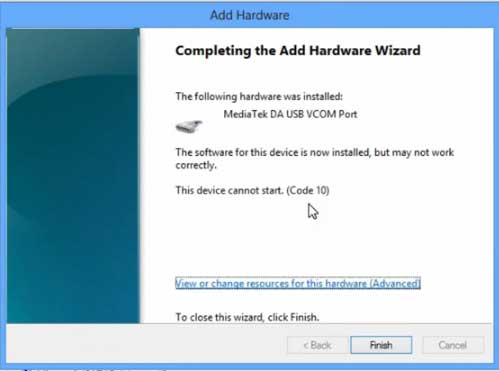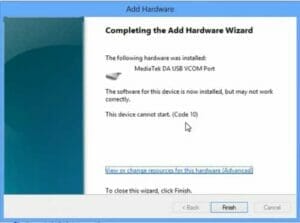 SP Flash Tool VCOM Driver Installation
Once you're through with the Installation part, goto device manager & you'll find a tool almost like this: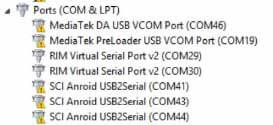 After Installing VCOM Drivers
How to unbrick Mediatek MTK device – SP Flash Tool
Step 1: First Download Official "Stock ROM / Firmware" From your Official site.
Step 2: Install the download file.
Step 3: Now Power Off your device & remove the battery as long as it's removable.
Step 4: Extract " '***".zip i.e Stock ROM (** Indicates the file name)
Step 5: Run Flash_Tool.exe from the SP Flash Tool folder
Step 6: Select DA Please confirm the Download Agent has been assigned..
Latest SP Flash Tool Options
Step 7: Select scatter file. Please confirm you decide on the right scatter file that you simply found within the ROM zip. Select DOWNLOAD ONLY.
Step 8: Once you've got selected everything, Click on the download button at the highest . Connect your phone with the battery in it.
A. MOTA SIU like (Recommended) : Only Boot.img,Recovery.img & Android are going to be updated, format->Download.
B. Format All + Download : Format Whole Flash and download all images.
C. Firmware Upgrade : Aim to guard important data from to be lost.
D. Custom : Image files to be updated (format -> download) are often customized during this scene, that is, partial download is allowed.
Download Process Indications:
Connections:
connections
Readback:
reedback
Format:
format
Download:
Step 10: Now Power On your device if it doesn't gets on Automatically to start the downloading process.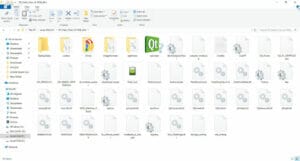 How To Unbrick Mediatek Devices Using SP Flash Tool
Conclusion
The steps above should have helped you unbrick your mediaTek device or solve the mtk dead boot. If you're still in need of any help or if you're facing problems in installation, you'll ask us within the comment section below. allow us to know your queries about anything associated with this post within the comment section. If you found this post helpful, then don't forget to share this post with other Android users in order that they might get their dead phones working during a few easy steps without paying any dollars for it.
FAQs
1. How do I flash MediaTek Devices?
Step 1: Open "SP Flash Tool'
Step 2: Click On "Scatter Loading"
Step 3: Select your Scatter File"
Step 4: Connect Your phone with USB cable by holding the quantity down or volume up button and click on on "Download".
Step 5: The flashing process should begin.
2. what's preloader in MTK?
Preloader may be a software that abstracts between the platform and therefore the bootloader. It also has additional features like the power else from MMC or NAND flash. It also can read and write various parts of the flash via USB.
3. what's Scatter enter SP Flash Tool?
A scatter files .txt file which runs on MediaTek's ARM architecture and is employed to explain numerous regions in an android device. The scatter file is typically needed at the time of flashing firmware.
4. Is It Possible To unbrick a tough Bricked MTK Smartphone?
YES, you'll follow the steps within the article mentioned above to unbrick any MediaTek Powered Device.
5. What Does It Mean When Your Device Is Bricked?
A bricked device may be a device that won't turn on and therefore the device can't be fixed by any normal method. A phone that's stuck in boot loop or boots into recovery mode isn't bricked. you'll follow guides available on this website to find out the way to unbrick your phone otherwise you can attend knowledgeable if required.
6. What Causes A Soft brick up A Phone?
A soft brick happens mainly when a ROM is flashed. It also can be caused by software problems. Malware's present in your phone also can cause it to urge bricked. it's possible to repair a soft bricked device; you'll do that by following the steps under the question "How does one Fix A Soft bricked Phone?"
7. How does one Fix A Soft Bricked Phone?
This process required clockwork MOD
Step 1. cut your phone and switch it on in recovery mode. you'll do that by pressing the quantity down and power button.
Step 2. Scroll right down to "Advanced" with the quantity button, and choose "Wipe Dalvik Cache" by Power button, then return to the most screen and choose "Wipe Cache Partition". then move to "Wipe Data/Factory Reset".
Step 3. Reboot your phone.
8. How Do i buy My Phone Out Of a Boot Loop?
Switch off your phone and boot in into recovery mode, you'll do that by pressing the facility and volum down buttons. Once you boot into recovery mode, select "advanced", Choose "Wipe" then pick "Dalvik Cache".
How To Flash –Lenovo A1000-G 
Perfectly Working You Must Need to Follow Below
Download Latest version Flash Tools
Extract On Your Computer( Any Drive)
Download You Mobile Same Version Firmware
Extract On Your Computer
Install Your Phone USB Driver On Your Pc
Now Open SP Flash Tools On Your Pc
Load Scatter File Frome Extract Firmware Location
Click Download And Update Button
Now Connect Your Phone With Your PC USB Cable
Your Phone Star Flashing Wait for 5/7 Minute
When Complete Flashing Process Then You Green Ring Will Paper
Now Complete Your Phone Updated
Remove USB Cable & Enjoy Mobile Phone
Don't Forget Comment & Share Thank You
Warning Note: Fast Backup Your Phone Important Personal Data When Flash Your Phone Erase All Data File. So Please Fast Backup Data And Flashing Your Phone Own Risk.
Lenovo A1000-G Flash File
Following are the steps to perform in order to Flash Stock Rom or any other custom ROM using so called flash tool SP(Smart Phone) Flash Device on a windows computer. Before starting the process of flashing make sure that your smartphone device has at least 50 percent of battery.
Extract the flash file in any folder on your computer or laptop device.
Need to install SP Flash Tool, Driver and Instruction manual.
Launch the SP Flash Tool and locates Scatter File Tool

.

Now, you need to connect your  Lenovo A1000-G  

 with the computer and make a connection.

Now click on upgrade and just wait for some time (minutes).
Once the process successfully completed you will get a green signal.
We hope this article will help you in solving the problems related to Lenovo A1000-G   Flash File. And if it helps to solve your problem don't forget to share with your friends and share your views about it.
Lenovo A1000-G Flash File Stock Firmware ROM
Lenovo A1000-G Flash File Stock Firmware ROM
Lenovo_A1000-G_A412_01_24_130329
Download Link:: Link