After the release of Disable passcode RAMDisk tool, there's another good news for the iPhone bypass community. You can bypass Hello Screen 15. All of us waited for checkra1n to support ios15 jailbreak, but it hasn't happened yet. Hello, Screen ios15 bypass with singal is in development and some developers are already working on it. GsmGeeky.com will provide links and other information once it is released. Our visitor bypass and other tools have all versions and stable download links. Subscribe to our Telegram channel to receive fast and frequent news. In the future, we will cover every method and tool possible. The new Lpro Magic Tool supports 6s to X, which is on ios 15. It supports some ipad models like Mini 4, Air 4 and ipad 2017. Soon, more devices will be supported.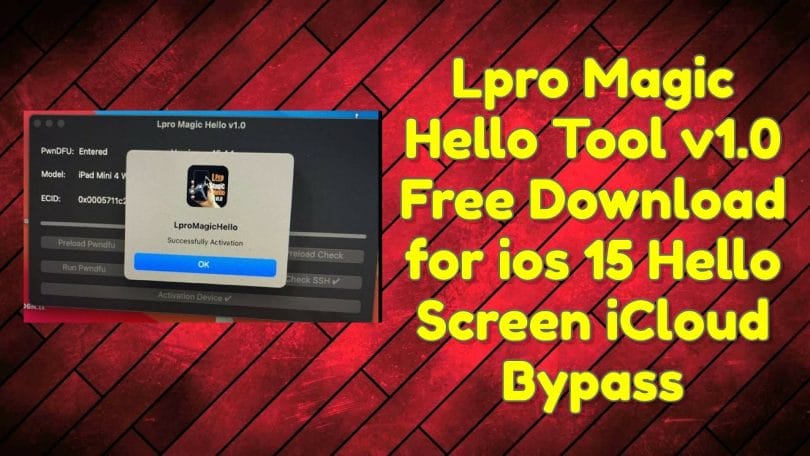 Like, Follow, Subscribe me on :
All Mobile Firmware:: Link
GSM ATOZ TOOL2
Highlights from this Post:
This tool is only compatible with Mac OS os at the moment.

After the bypass, you won't receive a signal/call.

You can find the supported devices from 6s to X on Hello Screen.

This tool is not required to be jailbroken.

This is a paid service, and you must register your acid prior to bypassing.

This tool support ios 15.

After bypass, all other functions continue to work as normal.

After using this tool, you cannot reset or update.
Steps to bypass IOS 15 using the Lpro Magic Hello tool
1. Use the DCSD Serial Cable2 to connect your device. OPen i4cn tools and Lpro Magic Hello
3. Connect DCSD Cable to your device by turning it into DFU Mode
4. Click on Preload Pwndfu
5. Click on Preload Device to change your device into a purple mode
6. If your device succeeds, click Preload Check.
7. DFU is displayed again when it displays the Apple Logo.
8. Click Run Pwndfu to get more information about i4n tools
7. Click Run Device.
8. Click on Boot Device. Click Boot Device to reboot the device.
Next steps if your device does not reboot
9. When you see the tick mark to the side, click Check SSH.
10. Click on Activation Device to reboot your device
11. All done
 What's new in this version?
Improved the design of the tool.
 Added an option to bypass iCloud.
Added the option to bypass Find My iPhone.
Fixed some bugs.
How can I use the tool?
 You have to install the free app.
Open the app, and click on the "Use" button.
 Click on the "Use" button again to exit the tool.
How much does it cost? The tool is completely free.
How can I get the tool? You can download it from the link below.
How can I contact you? You can reach me at [email protected] Topic: being a fashion model FAQ:
What's the biggest misconception about being a fashion model? The biggest misconception is that being a fashion model is glamorous. I do a lot of travel, and for fashion shows, I will be up at 5 a.m. and leave the house at 6 a.m. I don't get to sleep and I don't get to rest. It's a lot of hard work, and you have to have the right mindset
You will need to use the Lpro Magic Hello tool
DCSD Cable, Magico Cable, or repair Cable are used to put your iDevice in DFU Mode.

 

This method cannot be used with a patched checra1n.

Locked iDevice that is on ios 15.

Internet Access is Fast and Reliable

Mac OS System.

 

( You can try on Hackintosh but not sure it will work or not)
Are we required to jailbreak this tool?
This tool is not jailbreak-required. Connect tool is required to use the preload function, pwned and ssh modes, and restore activation back. Install patched checkrain on your mac OS. Below is the download link.
Download Link:: Link 1:: Link 2:: Link 3:: Link 4:: Link 5:: Link 6