iRemoval PRO v5.1 and the iRemovalRa1n v1.1 Latest Update for Windows PC. iRemoval PRO v5.1 is an effective and simple tool to unlock any iOS device. It's been upgraded with a new feature that lets you remove any iOS as well as iOS firmware from devices like your iPhone, iPad, iPod touch as well as any device. iRemovalRa1n v5.1 The most recent update for Windows PC is a free tool that lets you hack the jailbreak of your iPhone, iPad, iPod touch as well as any other gadget with the most recent iOS iRemoval Pro v5.1 as well as iRemovalRa1n v5.1 Latest Updates for Windows PC are available for free download.
Like, Follow, Subscribe me on :
All Mobile Firmware:: Link
GSM ATOZ TOOL2
What are iRemoval PRO v5.1 and iRemovalRa1n v1.1?
iRemoval PRO v5.0 We are so excited to welcome you to their largest project for 2022! After waiting for 3 years, iRemoval PRO is finally ready to launch! for a solution, iRemoval PRO has fulfilled the desires of tens of thousands of users… Yes! Jailbreaking on Windows is now feasible! our main contributor @ifpdz was able to successfully port Checkra1n onto Windows and get it working on A8/A9/A10/A10X/A11 devices! (A7/A9X/T2 soon) .
iRemoval PRO v5.1 & iRemovalRa1n v1.1 Features:
iRemoval PRO v5.1 fixes:
– Fixed the "iTunesMobileDevice.dll" missing error!
• More improvements to the bypass procedure.
iRemovalRa1n v1.1 fixes:
Support of Windows 7/11 Version build.
Complete support added of x86 (32 bits) devices.
– Fixed crashes that occurred randomly when the software starts.
– Fixed the "iTunesMobileDevice.dll" missing error!
Many bugs were fixed and improved the jailbreak process.
The A9X feature has been added!
(iPad Pro 9.7, iPad Pro 12.9 1st gen).
Some users can get stuck on the checkm8 process for A8/A9 phones. To correct this issue, you need to turn off Windows Defender!
Some users are stuck in the (right before the trigger) step A10/A11 devices. We're working on a fix!
A8X and T2 will be supported in the coming updates!
Forget the iCloud activation lock screen

Lock passcode, disable iPhone and iPad

Bypass carrier lock

Bypass MDM lock ios phone

Mac activates the lock screen to bypass

Unlock EFI firmware password

Mac iCloud system unlock code to bypass

Find my Mac removal

Close menu permanently

Compatible Models 5S, iPhone SE, iPhone 6, iPhone 6 Plus, iPhone 6S, iPhone 6S Plus, iPhone 7, iPhone 7 Plus, iPhone 8, iPhone 8 Plus, iPhone X and iPad (4 5 six generation), iPad Air (1,2), iPad Mini (2 3 4, 4) iPad Pro.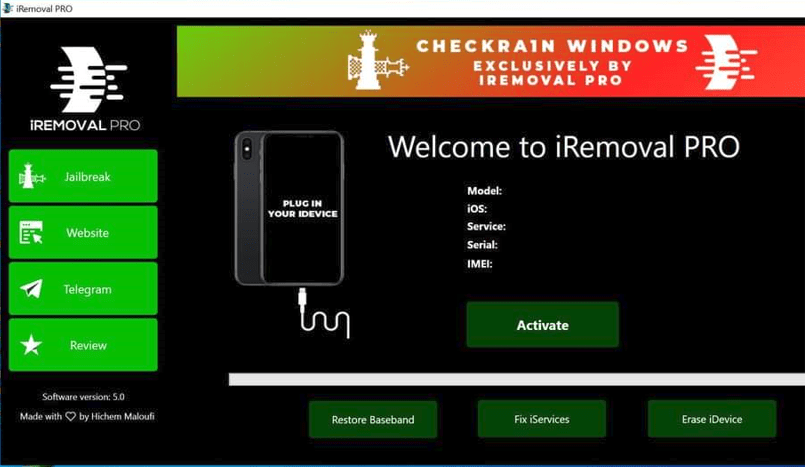 Changelog !!
!
IRemovalRa1n V1.1 (Checkra1n) Tools includes:
— New and improved GUI Interface easy to use!
– The new QR Code payment system!
Super fast bypass procedure!
(15s)
New, exclusive advertising system!
(contact @ifpdz for your personal AD)
— The world's first Windows jailbreak (iRemovalRa1n) exclusive and only within the application!
iRemovalRa1n features:
— First time in the world Windows jailbreak starting from iOS 12.2 to 14.8.1
— Supported devices: A8/A9/A10/A10X/A11
-To be added to the list: A7/A8X/A9X/T2 (soon)
System Requirements:
Windows 8/8.1/10 32 and 64 bit (Windows 10 is recommended).
Windows 11 will be supported with this update!
Windows Defender or any other antivirus should be turned off due to app obstruction!
If you require assistance concerning iRemoval Pro or iRemovalRa1n Please contact only @ifpdz or @gdtyt for assistance!
How To Use?
You can restore to your iPhone or iPad by using iTunes or 3U tools.

Hack or jailbreak your iPhone or iPad using iRemoval PRO v5.1 for Windows

Download iRemove Tool

Get your Order Serial Number at your local reseller or by contacting us.

After you have registered, enter your serial number is now available, you can open iRemove tool on Your Mac or Hackintosh

Make sure to connect your device with the Hello screen

Click on the start bypass

You can successfully override the meid device's security network.
What's the content in iRemoval PRO v5.1 and the iRemovalRa1n v1.1 files?
You can view the contents of each file as well as its kind in the content box of the file that follows; in certain situations, you will need to move the scroll upwards and downwards to view all the names of the files and their extensions.
Notification: The program is completely virus-free and has been tested through Symantec Endpoint Protection Antivirus so that you can run it without anxiety.
Make a Backup: If you are looking to test the tool above, make a backup of the personal data on Your Android Smartphone or Tablet. Flashing any firmware or recovery could damage the device.
Credits: This tool is developed and distributed by the creator. Thus, the full credit goes to the creator for sharing the tool at no cost.
Download Link:: Link 1:: Link 2:: Link 3:: Link 4:: Link 5:: Link 6