RTC (ROM Thai Center) Tool 2021 Free For All Users
RTC Tool Crack 2021 is a small tool for Windows computers. it is allowed users to perform various functions in MediaTek and Qualcomm smartphones. You can use this tool lifetime free no need to activate or buy any license. the tool is  by the solution unlimited team and release for all windows users. some features I have described below please check and comment if any problem you can face with this tool.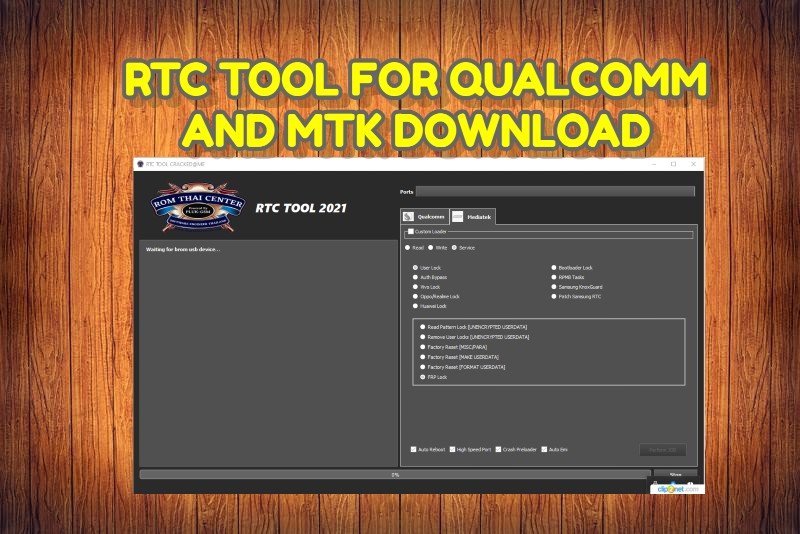 Features RTC Tool :
– Read RAWProgram
– Read the Whole EMMC
– Identify
– Delete & Write Button
Qualcomm Service TAB
– Test EMMC
– Read Pattern Lock
– Remove User Locks
– FRP Lock
– Bootloader Unlock (Generic)
– Factory Reset [MISC]
– Factory Reset [User-Data]
– Factory Reset VIVO
– Manual Factory Reset With XML [VIVO]
– Perform JOB Button
– Read Scatter Firmware
– Format & Write
– Identify
– Auto Reboot
– Format All
– Crash Preloader
– Protect Calibration
– Protect Repartition
– Unlock Bootloader after Flash
– Firmware Upgrade
– High-Speed Port
– Auto EMI
MediaTek Function
– UserLock
– Auth Bypass
– Vivo Lock
– Oppo/Realme lock
– Huawei Lock
– Bootloader Lock
– RPMB Task
– Samsung KnoxGuard
– Patch Samsung RTC
– Read Pattern Lock (Unencrypted UserData)
– Remove Userlocks (Unencrypted UserData)
– Factory Reset (MISC/PARA)
– Factory Reset (Make Userdata)
– Factory Reset (Format Userdata)
– FRP Lock
– Perform Job Button
How To Use?
First, you need to download the tool from the below link
Next need to extract all files at desktop
Open the folder and run the main "rct_cracked.EXE"
Connect phone and enjoy the tool
RTC TOOL FOR QUALCOMM AND MTK DOWNLOAD
Check out the automotive review at Body Design News:
The review begins with an analysis of the auto market as a whole with comments from Mike Vitiliano and Art Lynch on conventional and electric cars as well as Trucks. The review then addresses the unique issue of the cellular link of the Cars and a reference to a rant against Trucks. Then, it delves into the different options for Cell Phone telephony and an evaluation of Mobile internet applications, as well as the advantages of cellular link as a sole cellphone data connection. The presentation concludes with a comparison of the four major carriers (AT&T, Verizon, T-Mobile, and Sprint) and FCC rules that give a slight nod to Trucks as a minor part of the phone plans. The review concludes with a nod to Google's Project Phone and the rise of IoT. I recommend reading the whole review:  and car design.net/how-is-the-car-market-changing-for-us/2015/04/macro.html
In the context of the telecommunications industry, a good summary of the importance of cellular-linked mobile information services is from the article Cell, by the Journal of Telecommunications and Information Systems. The article highlights the role that cellular signal propagation plays in the modern mobile environment and explains how cellular signals have enabled connected vehicles to communicate in a variety of fields: from real-time traffic information to user interfaces, to media streaming, and more. From vehicles communicating with one another to consumers communicating with one another, cellular signals are enabling huge new possibilities for the industry.
And the quote below from the auto manufacturer Infiniti explains how the cameras could have real-world applications in motor driving:
"Unlike traditional stationary electronic components, which require the constant interaction with external power sources, this system offers the capability to re-use integrated power and convert it to internal functions in situ. The net effect is an organic vehicle that is more robust and flexible than today's traditional automobile to withstand disruptions from power loss, even catastrophic power loss. In addition, infrared display technology also provides better visibility for occupants and is suitable for AI, traffic management, and use in autonomous vehicles. For vehicles to benefit fully from cameras that act as intelligent sensors, they must transmit a constant stream of information to an external instrument-data bridge – as well as the track at variable speeds and over short distances to avoid obstacles," the article explains. "What this means is that the camera system will become more critical for vehicle safety. It will feed into existing vehicle systems to detect anomalies or enable the vehicle to re-route to avoid objects. Vehicles will also seek in-vehicle connectivity, the infotainment system may provide input to systems like telematics and the onboard interaxial camera system may be used as a replacement for many of the functions of traditional interfaces."
In terms of the Trucks, it is quite obvious that there are numerous benefits in bringing over the cellular drive for each model as Electransvision (Electronics Infrastructure and signaling) or augmented reality (Electronics in virtual space). Regardless of the successful use-cases, these benefits will be universal and for all automakers, it will be quite fascinating to see how they can leverage cellular connectivity.
And finally, amid the growing interest in artificial intelligence, Artificial Intelligence (AI) based Forests, a journal from Applied Materials Inc., covers how NLP and NLP based Library can be used to create the future of streaming and intelligence. NLP is related to natural language understanding, which helps create and detect human language. The NLP-based Library works with APIs allowing users to express content through which different data is uncovered, combining logic and machine learning to find data from structured text. But that NLP vs ML debate is a bit outdated in light of what is currently going on. As automakers and IoT systems continue to gain traction, it can be expected that they will benefit from NLP-heavy infrastructure that uses cognitive computing in place of traditional embedded computing.
README:
Compatibility: Windows XP, Windows Vista, Windows 7, Windows 8, Windows 8.1, and Windows 10 (32 bit and 64 bit) runs completely.
Take a backup: If you are ready to try the above tool, please back up your personal data from your Android smartphone or tablet. As a firmware or recovery shines can be a brick device.
Credits: RTC tool cart is created and distributed by the 2021 developer. Therefore, full credit goes on to the developer to share the tool for free.