BMB Unlocker V6 2022 MDM, ADB$ MTP FRP Tools Free Download
BMB Unlocker V6 MDM/ADB/ MTP FRP Tools. BMB Unlock Tool version 6, a small utility program for Windows, is available. It allows users to bypass FRP locks from different brands' smartphones. It is completely free and works on all versions of Windows 10, 11, or 64bit. Below I will list all the features that you can use to diagnose and fix any issue with your phone's software.
Like, Follow, Subscribe me on :
All Mobile Firmware:: Link
GSM ATOZ TOOL2
What is MDM?
Mobile device management refers to the administration of mobile devices such as smartphones, tablets, and laptops. MDM can be implemented using a third-party product with management features specific to mobile device vendors.
What is FRP Lock?
Samsung devices have security features built in to protect the resident's data and devices. Factory Reset Protection is an auto-enabled feature on Android 5.0 or higher devices that use a Google account. FRP is only available to users who have a Google account password.
An unauthorized person can reset a target device by using their Google username and password. This means that even if the device is stolen or lost, it cannot be reset factory-reset and manipulated by another person.
This is particularly problematic for enterprises as company-provided devices are locked into employees' Google accounts. The device is no longer available to the company if the employee leaves the company.
NOTE – A FRP-locked device may be unlocked by enabling the Skipping Setup Wizard option during device registration.
Features BMB Unlocker V6:
ADB FRP MODE
– FRP Reset ADB

– FRP Reset 2 ADB

– FRP Reset 3

Disable your Mi Account

Fastboot PIN

– Fastboot FRP

– Fastboot Unlock bootloader

Samsung Qcom
– Qualcomm EDL FRP Reset Samsung
Samsung KG Locked
– Enable MTP+ADB

– Enable USB Debugging / Unlock Bootloader

– KG lock Erase

– – OPPO MDM Unlock
MTK FRP+PIN (User lock) Remove
– Samsung FRP

– Safe Format (PARA.

 

MISC)

Format PIN+FRP

– FRP

– Disable your Mi Account

– META Mode F9 Pro

– OPPO, VIVO, Huawei, Samsung, Xiaomi, Meizu, Tecno, Infinx, Wiko

Unlock Bootloader

– Unlock Bootloader

– Backup IMEI MTK

– Backup IMEI Samsung

Lock Bootloader

– Restore IMEI MTK

Restore IMEI Samsung

Permanently Unlock

– Huawei ID Setup 1.

– Huawei ID Setup 2.

– Huawei ID Setup3
Note: KG Erase Open File MBN
How to Use It?
You first need to download the zip file at the link below

Next, unzip all files on the drive. It's very important

Next, extract all files from the folder you just opened.

Run " BMBV6 2022.exe".

If you have already installed drivers, skip this step.

Use the Bluetooth connection to connect your phone and perform any function

Enjoy !!

!
All Frp Unlock Tool Download
BMB Unlocker v6 2022 MDM. ADB$ MTP. FRP Tools free download Phone unlocker can unlock your mobile phone. After installing the software, run it. Connect your phone to your PC and select your brand name and model. Press continue. It will then test all available operating systems for your phone. Select the suitable firmware version after testing is completed. Press on to continue. The program will automatically download the terminal program.
After a few seconds, you'll see the progress bar. Wait until it finishes. The program will then begin the flashing process. You can then wait for the flashing process to complete. Your phone will become unrestricted and allow you to use any SIM card of any operator. The software is free to download. If you have any questions or issues with unlocking your phone, we will be happy to assist.
Mi Account Unlock Tool
Free 5 minute download of BMB Tool V6 2022 MDM and ADB$ MTP RP Tools This tool will allow you to bypass Android FRP Lock from different brands' smartphones. This is our latest version. We've been working hard on this tool for many years.
All Mobile FRP Unlock Tool
BMB Unlock tools can be a useful tool for technicians working in the field. They save time and help to reduce effort. This tool is now available as a free set of small utility applications that allows you to bypass FRP locks from various brands' smartphones. It's totally free and works on all Windows 10 versions.
You don't need to pay hundreds to a technician to unlock your phone with the BMB Unlocking Tool. Your smartphone will not be locked again once it has been unlocked. You don't need to pay annual fees like a mobile carrier.
BMB Unlock Tool
The BMB Unlock Tool V6 2022 MDM and ADB$ MTP Free Download are powerful yet simple to use. It works with all Android smartphones, including Samsung, Motorola, HTC, and Samsung. The BMB smartphone repair tool is constantly updated to include new devices.
How to Download and Use:
Click on Download::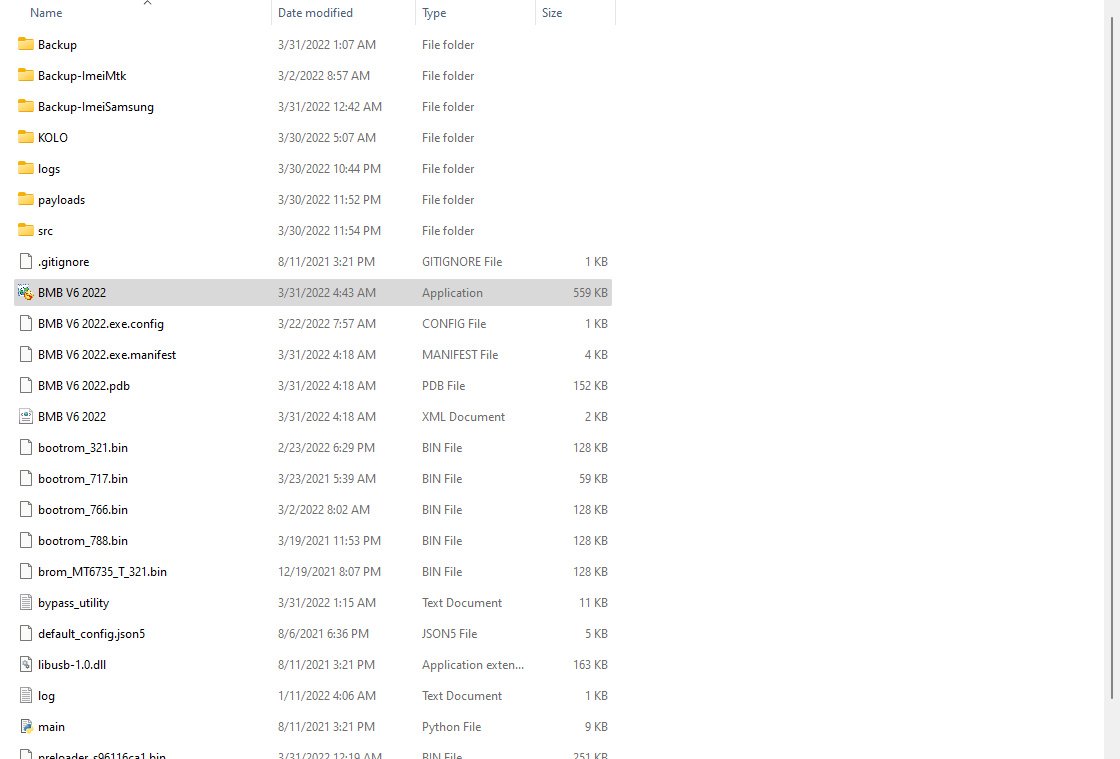 After downloading the file, right-click on it and click on Properties, and unlock the file.
Right-click on it and Unzip the file

BMB Unlock tool V6 2022 MDM. ADB$ MTP FRP online. This is the latest version of the unlocking tool BMB6 6. This tool is specifically designed for Android phones from all brands that by default use an access pass (Android Debug Bridge). Our BMB Unlocker allows you to remove the sim lock and allow any GSM network from your device. It takes just a few seconds to unlock your phone and decrypt all passwords.

Download Link:: Link 1:: Link 2:: Link 3:: Link 4:: Link 5:: Link 6