Download HFZ Activator V7.8 Beta 7 Free For All
HFZ Activator V7.8 Beta 7 is a tiny tool that is designed for Windows computers. It allows users to disable iCloud lock activation lock and FMI off Fix notification, and many more features that are interesting that are included in this program. The tool supports Windows 10 and 11 without issue. With this latest update, lots of new features are included. Check out the features section below for more information.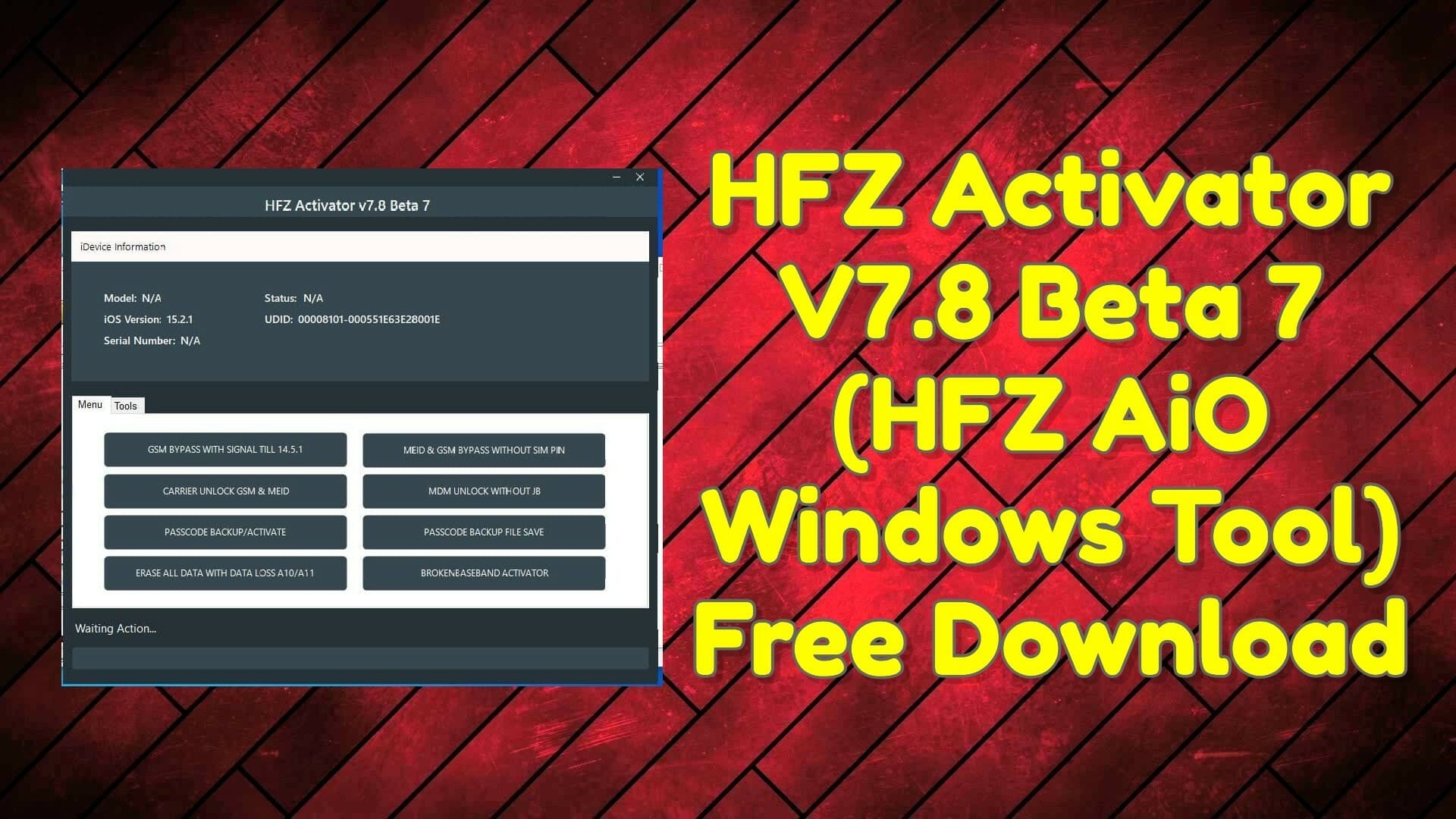 Like, Follow, Subscribe me on :
All Mobile Firmware:: Link
A few of us have the iPhone and an iPad that they do not use due to the fact that they aren't able to activate or bypass the iCloud lock screen because you don't remember either the email or password address, you could end up having an item that you do not make use of due to this reason. Today, with the Download HFZ the Activator V7.8 Beta 7 Tool, you can get around the activation lock for iCloud. For IOS 12 to 14. bypass GSM and bypass MEID NO SIGNAL. Also, you can fix damaged basebands, bypass Ipad or email, and use the iPhone again.
The iCloud issue has turned into an issue for every iPhone, iPad and iPod user. After you sign up for your iCloud account to store your data, you are not keeping the account information in a secure location, and then you lose the information on your account. And locked on the iCloud confirmation page. How do you user delete their iCloud lock! Today, we will explain how to unlock iCloud using a brand newly released HFZ Activator V7.8 Beta 7 Tool, which is focused on unlocking and getting rid of the iCloud. The iCloud is among the major issues faced by the iPhone/iPad/iPod users, so we provide an option to bypass the iCloud tool that is called the HFZ activator V7.8 Beta 7. A tool that offers solutions to disable iCloud.
Apple device is renowned for its robust security system on its phones, which can be extremely useful in the event that your iPhone, iPad or iPod is stolen or lost. The iCloud Lock can protect your device and, consequently, it is not possible to gain access to your personal data when the activation lock is activated without entering the password and email. The problem is when you forget your iCloud data, or if you purchased a second-hand gadget on Amazon or eBay and discovered that the phone you bought is locked. In this article, we'll learn about the HFZ activator V7.8 Beta 7. A tool that can bypass the iCloud lock. We are not responsible for any incorrect use of it.
Features HFZ Activator:
New Update  
New: Account Data Finder From Device Passcode (Owner iNFO)
-Restore Backup PasscodeTaken from another tool
-Can now fix Backup Passcode 
  HFZ Activator V7.8 Beta 7
         (HFZ AiO Windows Tool )
         All on one Windows Tool 
Account Data Finde
Restore Baseband Free
Fix Notification
Passcode Backup File save
MDM Bypass All IOS All Device
Bypass GSM Signal Till 14.5.1 ♨️Beta 1/2/3
Byppass GSM Till 14.8.1 No signal🔆
Bypass Meid No SignalALL IOS ( iCloud
 App Store
 Notifications
 Reboot
 No SIM PIN
 No Battery drain
 No, remove Baseband
Bypass broken Basenand
Bypass Ipads WIfI
– Fixed Bank
Bypass Passcode With Signal IP 5s Till 7p🔆Meid /GSM
ERASE A11 No BootLoop 100%
Erase A10
How To Use?
First Download
Extract tool
jailbreak device
Connect phone
Open the tool and follow tool commands
Enjoy!!!
HFZ Activator V7.8 Beta 7 New Bypass iCloud Tool Free Download. Here are some interesting new features included in HFZ Activator V7.8 Beta 7: The capability to turn off iCloud lock activation locks and turn off FMI Fix notifications. In addition, other interesting features are as well. Take a look at the new features prior to you downloading these! With the latest update to HFZ Activator V7.8 comes with some new features that have been added. The new features include bypassing the iCloud Lock activation lock as well as bypassing cloud taking, bypassing FMI on/off notifications and many other features that are all exciting. You will also find the information on how to download the software at the bottom of this article.
HFZ Activator V7.8 Beta 7 New Bypass iCloud Tool Free Download. Secure your iPhone with the best tool available with this latest edition of the activater designed for Windows. It is compatible with all Windows versions which include Windows 10 as well as Windows 10. Users don't need jailbreaking their gadgets in order to disable the activation lock, or FMI off, as well as additional features which are available in the program. Users can also use this tool to be a fantastic assistance when they're creating and troubleshooting.
HFZ Activator V7.8 Beta 7 New Bypass iCloud Tool Free Download. HFZ Activator is a new bypass for an iCloud lock that allows iPhone 5s/5c/5/4s with or without an iCloud account. Your personal computer should be running HFZ Activator V7.8 Beta 7 so that you can turn off the activation lock for iCloud and fingerprint with one click. The fingerprint fix notification will not function after you are able to hack your phone. The users of Windows 10/8/7 are able to encrypt and decode files using the TKR software for editing files with the HFZ activator V7.8 Beta 7. You will find more details about it in the detailed instructions
HFZ Activator V7.8 Beta 7 Do you want to break the Activation Lock, recover you are stolen or lost iPhone or invalidate your iOS Passcode, or add new apps? This tool can assist you to get around the activation lock, and then activating any iOS device without Smart-Lock. It will also take the annoying FMI off notifications.
The HFZ Activator V7.8 Beta 7 lets users bypass the lock on activation for iCloud and Fix notification FMI off, along with other exciting features are available in this application. It is compatible with Windows 10 and 11 without a problem. In the latest version, many new features have been added. This update is going to have an enormous effect on "unlocked" grandchildren and grandsons who are locked in iOS devices locked by their grandparents or parents With this tool, they will be able to unlock their devices easily to enjoy the new features that are available on iPhones as well as iPads. iPhones.
HFZ Activator V7.8 Beta 7 New Bypass iCloud. HexAct V7.8 Beta 7 can be described as a tiny program made to work on Windows computers. It allows users to turn off iCloud locking activation locks, as well as FMI off Fix notifications, as well as additional features that are fascinating. In the latest update, several new features are available. Take a look at the Features section below to find out more on HexAct V7.8 7.7 Beta unlocking iCloud reminder fix, and much many more.
HFZ Activator V7.8 Beta 7 New Bypass iCloud Tool Free DownloadThe HFZ activator V7.8 Beta 7 is a tiny program that was developed specifically for Windows computers. It is able to disable the iCloud lock activation folder, turn off the iTunes FMI Off, as well as a host of other options that are intriguing. It functions and is compatible with Windows 10 and 11 without issues. The latest version of HFZ Activator V7.8 Beta 7 has added a number of new features and fixed any bugs found in older versions. This version also works with the latest version of iOS 12 and 8/8+.


Download Link:: Link 1:: Link  2:: Link 3:: Link 4:: Link 5:: Link 6