OMH Advanced Xiaomi Tool Pro V1.3 By OMH Developer
OMH Advanced Xiaomi Tool Pro 1.3 build 5 tools for windows computers. it is allowed users to remove user lock and FRP from Xiaomi mobile. the tool is working on all windows you can direct download it from the below link and connect the phone and try to unlock it. some new features are added to the tool you can check from below.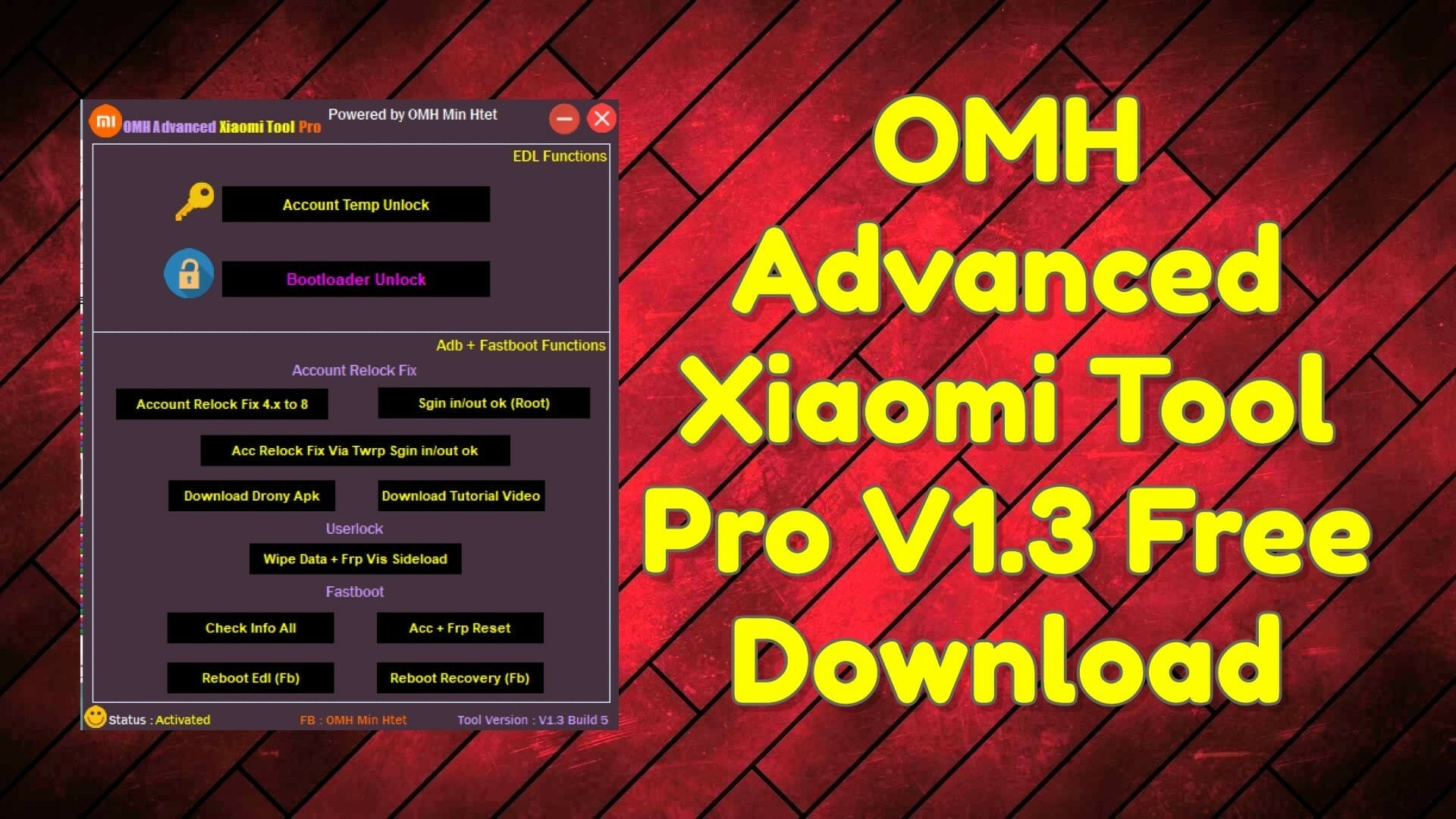 Like, Follow, Subscribe me on :
All Mobile Firmware:: Link
Although I said I will give it on Valentine's Day, I am giving it for free from now on.
From Valentine's Day to many years, may the lovers get old?
May the FAs be healthy and wealthy 😁
OMH Advanced Xiaomi Tool Pro V1.3 Build 5
Features OMH Advanced Xiaomi Tool Pro:
– Account TEMP Unlock
– Bootloader Unlock
– Account Relock Fix 4. x to 8
– Sign in/out ok (ROOT)
– Account Relock Fix Via TWRP Sign in/out ok
– Download Drony APK
– Download Tutorial Video
– Wipe Data + FRP Via Sideload
– Check Info All (Fastboot)
– Account + FRP Reset
– Reboot EDL (Fastboot)
– Reboot Recovery (Fastboot)
Adb + Fastboot Functions..
Account Relock Fix 4.x to 8
You can skip to Sgin in out but you need to have Rooted. You can't have Root without Root…
Account Relock fix Via Twrp….(CS)
You can just link from Twrp status and skip to get Sgin In out..
Wipe Data + Frp Reset Sideload..
Check Info All Fastboot
You can pass Account + Frp from Fastboot. You need to be Bootloader Unlocked…
MTK
Redmi Note 2
Redmi Pro
Redmi Note 4
Redmi Note 4x
You can do Temp Unlock etc..
You can make 46 models No Neex Auth Temp Unlock for Qualcomm…
Support Model List
Redmi 8a (cs)
My 8(son)
My 8se(Beta)
My 8ee(Daughter)
My Mix 2s (Seta)
My Mix 3 (baby)
Redmi Note 6 Pro(Stable)
My pad 4 & Poco F1 (Beta)
Aqua
Cancer
Capricorn
Chiron
Ferrari
Gemini
Gucci
Helium
Hydrogen
Today
Jason
Kenzo
Land
Today
Pound
Lithium
Markw
I'm in the middle
Sodium
Nitrogen
Oxygen
Platinum
Prada
Riva
Rolex
Rosy
Said
Ugglite
Ugg
Vince
Wayne
Ysl
As a Bootloader Unlock
Redmi Note 5a
Redmi Note 5a Prime
Redmi Note 3 (Qc)
My 8 lite
Redmi Note 7
Redmi s2
You can do it for all of us 🥰🥰
How To Use?
First, you need to download the tool from the below link
Next need to extract the setup file at desktop
Next, run the setup file with double click on it
Next, close the setup wizard and back to the desktop and run the "OMH ADV XM Tool Pro"
Next, you need an activation menu on there you need to enter login information I have to give you all details below please copy and past it on the tool.
Done !!!
User ID:- omhminhtet
Key:- 3CDFCG-4XCVB-FC190-11010-XXXN
With the new features of the Xiaomi Tool Pro, you can now easily unlock Xiaomi phones. If your phone is locked and locked by the system or you want to unlock it, you should get the tool and use it on your phone.
How to use Advanced Xiaomi Tool Pro 1.3 build 5
This is the last tool for Xiaomi mobile phone users that can unlock Xiaomi mobile. The tool is not a third-party app like Unlock Tool, but it can be used by Xiaomi phone users to unlock Xiaomi mobile.
It is a new tool by the developer of Advanced Xiaomi Tool Pro and it's an advanced software for unlocking Xiaomi mobile phones with any type of password.
Xiaomi phone users can unlock Xiaomi mobile phones with any type of password using this tool.
You need to download and install the following file (or advanced Xiaomi tool pro v1.3 free download) on your computer over an Internet connection:
– Windows 7 or Windows 8: 32bit version (.exe); 32bit version (.dll); 64bit version (.dll); 64bit version (.exe); 64bit version (.dll)
– Windows 8.1 or Windows 10: 32bit version (.exe); 64bit version (.dll); 64bit version (.dll)
– Mac OS X: 32 bit (darwin9, osx10_11_11_10) ; 64 bit (darwin9, osx10_12_11_10) . It is a true universal app and also compatible with other platforms like Android, iOS, macOS X, Blackberry, Symbian/Nokia etc.. The features of this software are:- disables FRP from your Xiaomi mobile; unblock all apps from your Xiaomi mobile including Facebook Messenger; Easy to use; no need any pc knowledge to use it; Full Version Support; No Root Needed for this Software; No Ads Needed for this Software; Quick Unlock Code Generating Tool
Requirements and System Requirements
We haven't had a lot of time to get our hands on the new OMH Advanced Xiaomi Tool Pro V1.3, but here are the requirements and system requirements for it:
1. The minimum system requirement is
2. The minimum RAM is 2 GB
3. The minimum CPU is 1 GHz
4. The minimum screen resolution is 1024×768 (HD) or 800×600 (WVGA)
5. OS: Windows 7 32-bit or 64-bit Windows 8 32-bit or 64-bit Windows 10 32-bit or 64-bit Android 5.0 or higher Mac OS X Mountain Lion 10.8 or later iPhone 5, 6, 6 Plus, 7, 8 iPad Air 2, 3, 4 iPad Mini 2, 3 and 4 Android 4.4.2 KitKat 5+  (M9/M10/M7/M8) iOS 9+  (T21/T25/T29) Linux Ubuntu 16.04 LTS (Xenial Xerus) Fedora 20* *Note: Due to different operating systems and hardware configurations some of the above may not be applicable to your device; we strongly advise you to check with your device manufacturer before proceeding with the installation of this app in order to make sure your device meets these requirements before you install it on your phone or tablet from this link .
Also note that even if you have an android phone running on a supported os such as android 6(Marshmallow), you need an update for this tool to work on it at all; follow this link for a list of devices that have updated their ROMs in order to support this tool after its release in early 2017: https://forumprintttt.com/#!/thread/125735?p=14642#post14642 To be clear though, this tool works best with phones running any of these android os's because it has been optimized for them specifically so that they can get into their full potential with this app by bypassing some more common auto lock apps like McficeLock and QuickLock (which are both very annoying in their own right). It also doesn't have any problems working without root so long as your device supports root access however I would recommend using root only if absolutely necessary because some people don't like rooting their phones as they can run into errors but also cause other issues by messing with certain settings such as battery life etc.; again see my previous
Xiaomi is one of the most buzzed-about tech companies in the world. Its products are winning over people faster than anyone else, and it has a lot of momentum to burn.
In the last few months alone, Xiaomi has released two new flagship phones (Mi 5 and Mi 5c), a new version of its own web browser (Xui), and this month launched an affordable 4G LTE plan for $30 a month. It's been good to see Xiaomi breakthrough into mainstream consumer awareness, but some have questioned whether it's willing to do enough to keep that momentum up — namely, attracting more users after they've already bought something.
Earlier this week, Xiaomi announced that it had sold 94 million smartphones in Q4 2015 (versus just 30 million for Apple) and that it was on track to sell 100 million phones by 2020. The company spent $1 billion on acquisitions from 2014 to 2015 alone. At a global level, there are only three companies who are outselling Xiaomi by a large margin: Apple, Samsung and Huawei — all three of which have hundreds of millions of users each.
But while it will be interesting to see how many users turn out for the next launches at CES 2016, I think we should bear in mind that there is another side to this coin: what happens when you have thousands of users who know you only by brand name? What happens when you start spending money on marketing campaigns aimed at them instead of just focusing on your existing user base?
The first question we should ask ourselves is: why do we want these users? If we can get them through our products or services without much effort or investment in marketing or PR then maybe we should just focus on that instead… If not then there is clearly something else at play here — perhaps simply drive engagement with your existing user base if you can… But let's imagine for a minute that these are actual customers who use our products every day — what does their behaviour look like? Perhaps they aren't buying from us because they don't trust what we say about our products… In other words: if we can get them to buy from us because they trust our credibility but if we can't then what does that mean for our product reputation? We may well be operating in fundamentally different markets; one which could easily fail without the other side working perfectly; but surely if both sides work well together then things will work out OK right
After a few months of hard work, we brought you the first version of Oh Advanced Xiaomi Tool Pro V1.3. We are very happy with the result, and we are proud to introduce this new tool to the community.
The tool is a fully-fledged decryption tool for Xiaomi mobile phones. It can remove FRP (Fast Roaming), lock your SIM cards, and even delete them permanently without any sign of being used by an unauthorized user.
It supports all Xiaomi devices from XIAOMI ME1-M2 devices to M3-F2 devices.
What's New in V1.3:
FRP removal from MIUI ROM on MIUI devices
Removal of the lock screen and lock status bar from Xiaomi Android phones such as Redmi Note 3/4/4A/4B/5
Removal of lock status bar from Redmi Note 4A/4S/5A device(s) (tested on Redmi Note 4A_v8l
User ID:- omhminhtet
Key:- 3CDFCG-4XCVB-FC190-11010-XXXN