OMH QC Service Tool Free For All Users Download Now Working & Tested
OMH QC Service Tool is a small tool for 1.9 windows computers. Users are allowed to remove the FRP, MI account, user lock-like operation on all Qualcomm mobile. This is a special tool because they did not need any compatibility issue, this program is designing BAT programming codes. You can run the tool on any Windows computer, this device is already uploading many tools and doing all right you can find my blog to download another version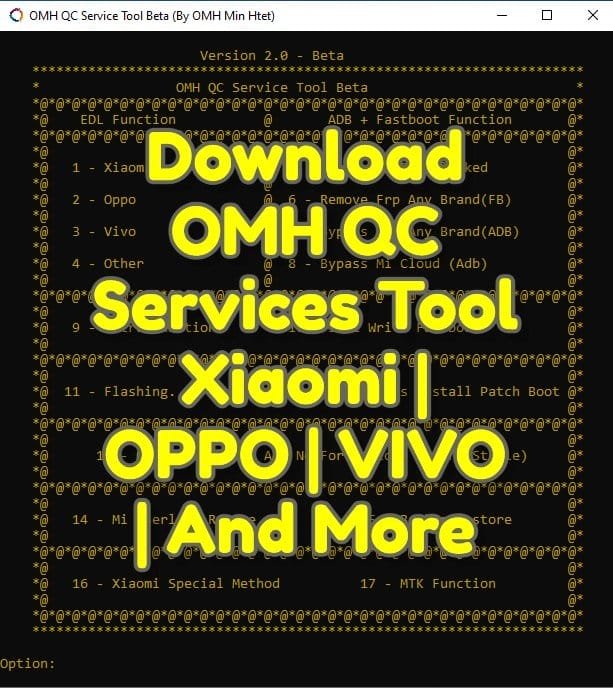 Like, Follow, Subscribe me on :
All Mobile Firmware:: Link
Features:
Xiaomi
OPPO
VIVO
Others Models Qualcomm Only
Remove ML Bootloader Unlocked
Remove FRP Any Brand – EDL
Bypass FRP Any Brand – ADB
Bypass MI Cloud – ADB
Extra Function
IMEI Write Fastboot
Flashing
MI A Series install Patch Boot
Mi Cloud Bypass ADB No Force Close Error (BETA)
MI User lock Remove ADB
Backup/Restore

Remove ML BootLoader unlock,

Remove FRP Any brand,

BYPASS frp any brand

BYPASS Mi Cloud,

Extra function,

IMEI write Fastboot,

Flashing,

Mi A series installation patch boot,

Mi cloud bypass ADB no force close error stable,

Mi userlock Remove ADB,

Backup Restore,

XIAOMI special method,

MTK function
How To Use?
First, you need to download tool all files
Next is a portable tool you do not need to install you can run from anywhere.
Next, after the tool is extraction complete you need to open the folder and run the "OMH QC Services Tool" file
Now is open in a second now connect phone in a various mode which tool is says and solve your mobile problem.
Done !!!
README:
Compatibility: Windows XP, Windows Vista, Windows 7, Windows 8, Windows 8.1, and Windows 10 (32 bit and 64 bit) runs completely.
Take a backup: If you are ready to try the above tool, please back up your personal data from your Android smartphone or tablet. As a firmware or recovery shines can be a brick device.
Credits: OM QC Service Tool is created and distributed by manufacturers. Therefore, full credit goes on to the developer to share the tool for free.