ST SamFRP Samsung FRP Tool Free Download is here to support you to remove Google account of your phone and also can help to delete all type of FRP. It's 100% Safe and fully support all model of Samsung with new security of 2022.
With the evolution of Mobile technology, Samsung awakes with a new transformation in the world of Smartphone. The fact is that there are many Tech giants are trying to test their technologies at par with each other which leads to these giants reinventing innovations for their betterment.
Like, Follow, Subscribe me on :
All Mobile Firmware:: Link
GSM ATOZ TOOL2
ST SamFRP Samsung FRP Tool Free Download
At present time there are only handful of Samsung devices which have been released with latest Operating System nd in coming time this numbers will be increased to hundred. But most of the Samsung Mobiles are comes with preinstalled Android version. And among them some models has Android Lollipop and Marshmallow versions.
How to use the tool ST Samsung FRP Tool
The ST Samsung FRP Tool is a tool that helps you bypass FRP lock on your Samsung device. It does this by generating a unique ID for your device, which in turn enables you to activate the phone.
This tool is available for free download on the internet and it is compatible with Windows and Mac operating systems.
What's new in this version ST Samsung FRP Tool
This new version of the ST Samsung FRP Tool has a lot of new features. The most notable one is the support for more models than before. In addition to that, it also allows you to unlock the bootloader in some models, which means that you can use third party software on them. But be warned – this will wipe your phone's data.
The Samsung FRP Tool is an application that allows you to reset your phone's forgotten password and get into it again. It does this by removing the Google account from your device and then adding it back again with a new password.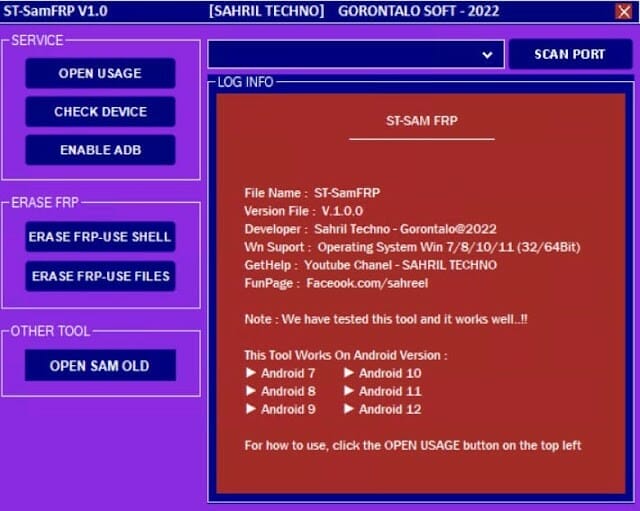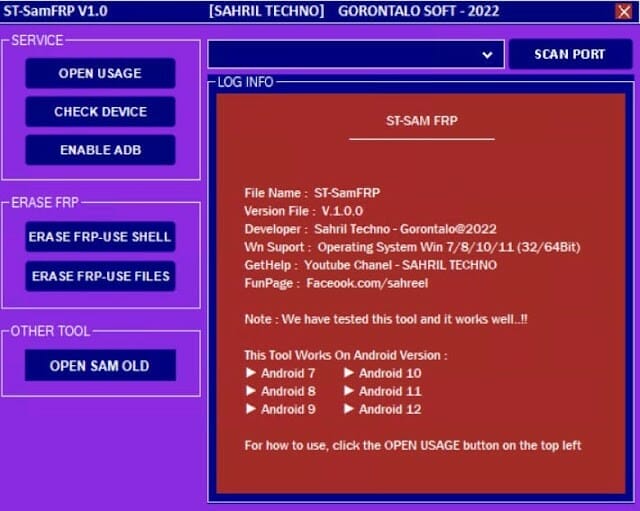 Features:
Open Usage

Check Device

Enable ADB

Erase FRP Usage Shell

Erase FRP Use Files

Open SAM OLD
How To Use?
The device needs to have been placed set to Test Mode.

Choose an emergency number Then dial *#0*#
Follow these steps:
Then connect your USB cable to the device.

Click Scan Port, and make sure that the driver is recognized.

Click Check Device (Not Important)

Click Enable ADB (Important)
The Next Step Is:
FRP can be erased in two methods

Erase FRP – Use Shell (Kill Server By Google)

Erase FRP – Use Files (Erase Frp By ADB)
How to Download the tool ST Samsung FRP
you can download this ST Samsung FRP tool by clicking the link given below
Download LinK:: Link 1:: Link 2:: Link 3:: Link 4:: Link 5:: Link 6