AlsaBahi Multi Tool V5.1 | AlsaBahi Icloud Bypass Aio Windows
Tool
AlsaBahi Multi-Tool 5.1 is a small tool for Windows computers. it is allowed users to remove activation lock, iCloud Bypass, FMI OFF, Tethered | Untethered Remove iCloud Lock, MDM Bypass. but in the new version developer has been added the Android MTK, Qualcomm, ADB & Fastboot option which helps with this option you can unlock or remove all locks from MediaTek and Qualcomm phones. also, some new features have come with this new update. for more information, you can check the features tab.
APPLE
MTK
Qualcomm
Huawei
Android
About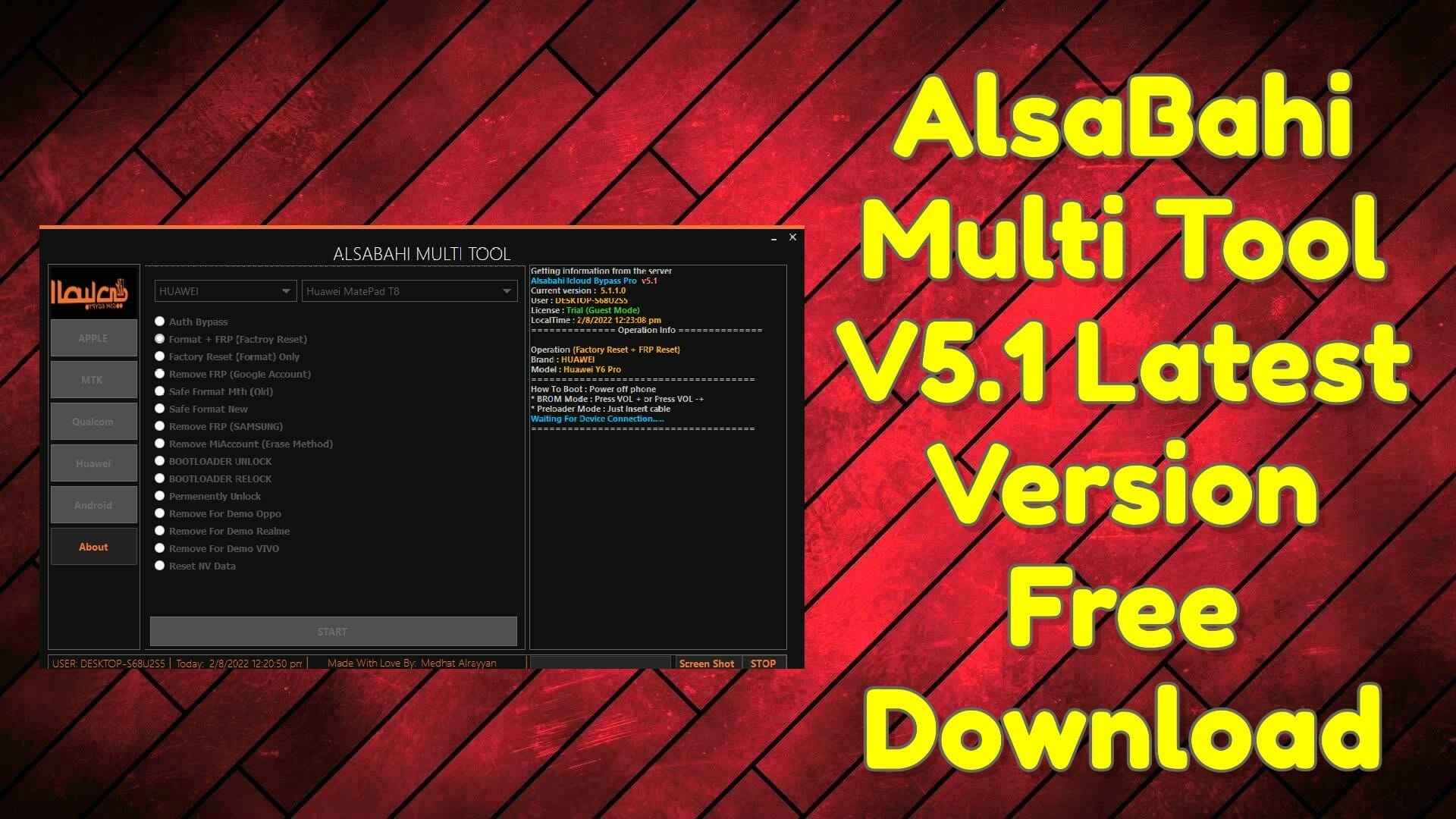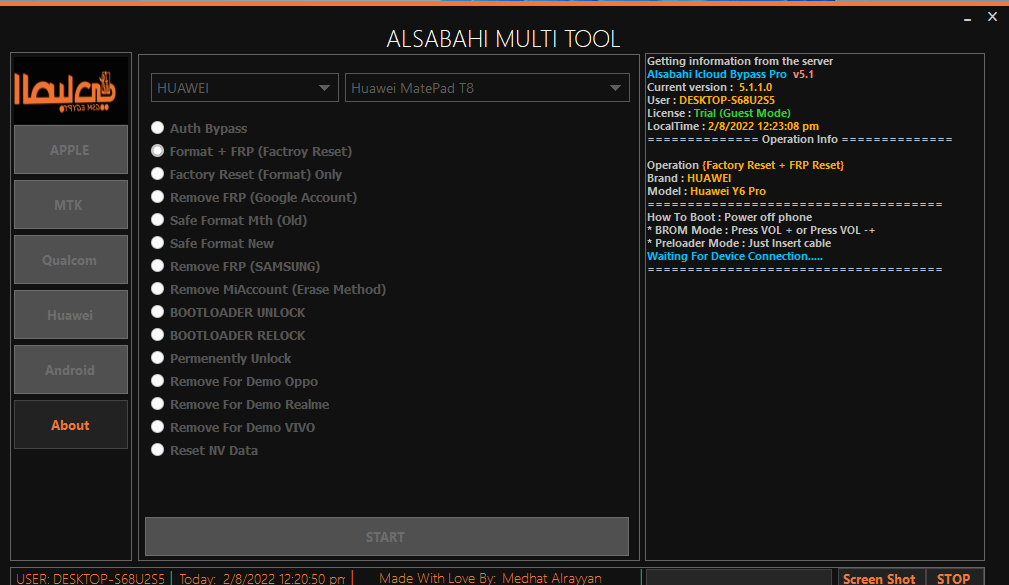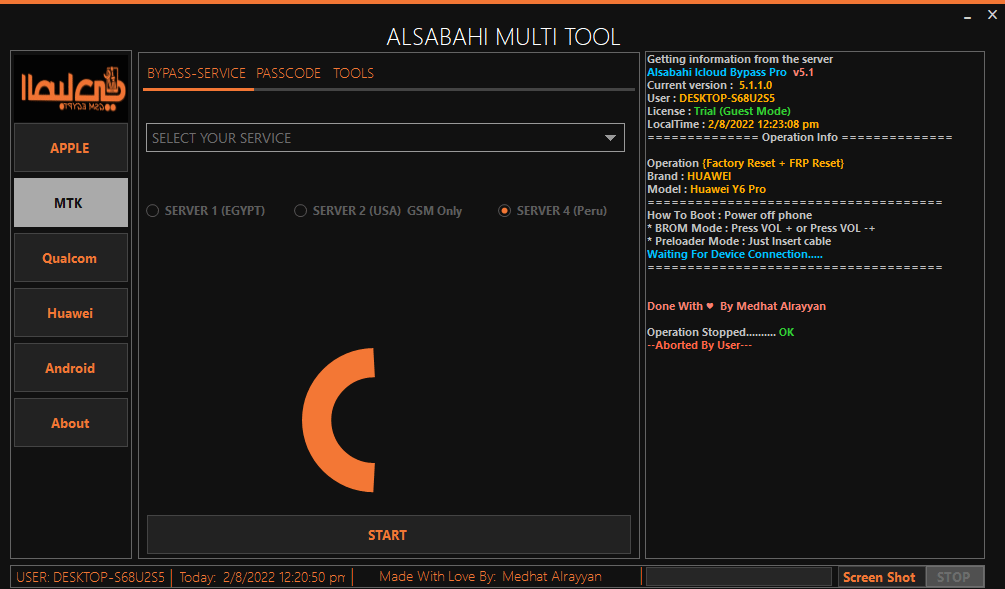 NOTE: –
Some Windows users have been facing tools not responding when he was open the tool, the same issue I also face. then I have a try on my other windows computer and it is working. if you fix this issue first you can install .NET Framework 4.5.2 and try the tool. if also the same issue then you need to reinstall the windows.
Features:
AlsaBahi Icloud Bypass Aio
NEW V. 5.1 more stable
Important Please Close Antivirus To Make work stable👁‍🗨
Fixed All Bugs
Faster open Now
Support Only Windows 64 bit
Fixed API For Serial Number registration
If You Have Credit On Our Panel Please finish it Faster
Apple new patches included
with new support
Add MTK Supported chipsets to Direct Operations.
Add New Server
GSM 12/14.5.1 Signal Working
GSM 14.6/14.8.1 No Signal
MEID 12/14.8.1 No Signal
BB 12/14.8.1 No Signal
MDM No Need JB 12/15.3
Add USB Patcher Diag Mode Windows
Add A11 Eraser Without Boot loop
 A lot OF new Options Added
 all premium services with your hands
Thnx Developers team For Always Supporting us
 Tools: WINDOWS
New patch installed  every method
AlsaBahi Multi-Tool
How To Use?
First, you need to download the tool from the below link
Next, you need to extract the setup file at desktop
Next, you need to open the extract the folder and open the setup file with double click on it.
Next back to the desktop and find the alsabahi shortcut and run the "Alsabahi Multi-Tool"

Next wait to open the tool, connect the device, and check the tool.

Done !!! Enjoy the tool all users
We are happy to announce the release of our latest version of AlsaBahi Multi Tool V5.1.
Kodak, one of the oldest and most famous camera manufacturers in the world, has recently come out with a brand new camera: the ZEISS Vario-Elmarit 7-14mm f/4 lens.
It has a focal length range of 7-14mm, which is quite long for a wide-angle lens (converging to 15mm at 14mm). It is also very sharp, with an average resolution of about 12mp and an apparent field of view of about 35°. There are lots more things that make this camera so good, but we will let you check them out for yourself in our latest blog post!
Unique and Powerful Functions
AlsaBahi is a Swiss Product, founded in 2013 by Pascal Lebeau. It has been growing very quickly since its inception and can now be found in over 200 countries.
It is a powerful script-writing tool, with a large number of useful functions:
• Basic: It can do basic things like open/close files, rename or delete files, rename subfolders within directories and copy them (with renaming the original)
• Advanced: It is capable of creating or editing codes and macros
• Macros: It can create and edit macros to perform tasks such as backup, transfer or fetching files from external sources like FTP servers.
Macros are stored in the text file with the name of the macro. A macro can be created using parameters (e.g. %mapv), including parameters that are passed to other scripts via environment variables (e.g. %mapp)
• Scripts: It implements all scripting languages (Python, Ruby, Perl etc.) for developers to automate their tasks.
The AlsaBahi script language has a rich syntax that allows users to write complex scripts that are easy to understand and use. The syntax is fully object-oriented allowing objects (and their relationships with each other) to be defined by declaring variables with type names as shown below:
How to Use AlsaBahi Multi-Tool 5.1?
If you are still using AlsaBahi Multi Tool V5.1 (or just want to upgrade it to 5.1) then this is a great post to read which explains how you can use it. There are a lot of details that, in my opinion, are very important to know about the tool, so I will try to cover them here and provide links for you to go look at them yourself.
First off, if you want to read more about what AlsaBahi Multi-Tool (now renamed AlsaBahi Desktop) is all about,
or technical details and documentation on each of the 3 mini versions I am going to explain here using examples from my personal experience using the latest version 5.1 (ie v5). I am assuming that you have installed Windows 10 on your computer and have logged into your account(s) through your user account or as an administrator if required.
This includes both 64-bit and 32-bit versions of Windows 10 (such as 64bit version 7+), but for simplicity, I am only going to focus on 64bit Windows 10 machines in this post (though it should be noted that most people who run 64 bit Windows 10 on their computers do so with an admin account).
Also, note that there is no need for any special software or installation process at all! Just install AlsaBahi Desktop 5.1 on your computer, log into your account(s) through your user account or as an administrator if required, choose "Change User Settings" from the menu bar in the top right of your screen and select "New User" under "User Settings" where you pick a username – i.e., email address – and password that works for you!
Next up is a walkthrough of the wizard that comes up when opening up the program itself; including how it gives full control over what file types are supported by AlsaBahi Desktop 5.1 (which includes mobile devices such as smartphones), selecting which apps are supported by it, choosing what language options will be used by your desktop interface etc… After completing these steps there will be some more choices
Tips for using AlsaBahi Multi-Tool 5.1
AlsaBahi is a small, powerful, and yet very powerful little utility that has been around for many years. It is widely used on Linux, Mac OS X, and Windows. In this article, we will list down some of the things you can do with AlsaBahi Multi-Tool 5.1.
We are not going to give you step-by-step instructions on how to install AlsaBahi 5.1 on your system. The easiest way to do that would be to use one of these ready-made installer packages:
The package manager will make sure it installs the right version of AlsaBahi for your system; if not then simply download and install it manually as per
In this post, we will be discussing (much) more about AlsaBahi Multi Tool V5.1. This is the latest iteration of our product and it has been updated to support Mac OS X Yosemite (10.10) and macOS Sierra (10.12). There are some important differences between V4 and V5, but for the sake of this post, we will only discuss the most recent version.