SamFirm Tool V3.1 Free FRP AIO Removal Tool (Without login and for free)
Download SamFirm Tool V3.1 Free FRP AIO Remove Tool is an incredibly small utility application that you could utilize for downloading Samsung as well as Apple Firmware, Flash tools, ADB File, and Shoot files. It also allows you to bypass FRP in MTP mode for Samsung phones. If you own a smartphone with an FRP lock notification that you cannot access, follow these easy steps to download SamFirm's FRP AIO tool v3.1 the latest version to repair your phone.
Like, Follow, Subscribe me on :
All Mobile Firmware:: Link
GSM ATOZ TOOL2
SamFirm Tool allows you to access YouTube, Maps, and other apps to Open YouTube and Maps. Also, it allows you to Open Galaxy Store to download settings for GS, connect to the smart Switch to create Samsung Pass, open Settings, Samsung My files, and even file commander remotely. The process is quite simple attach your mobile to a wireless network and then launch the tool and select the option you prefer, then click MTP Bypass FRP and that's it.
Google offers the FRP option on Android Lollipop, Marshmallow, Nougat, Pie, and Oreo as well as 10Q versions. The simplest way to describe FRP is FRP, and it protects Android customers' private information and privacy during thefts. The procedure for unlocking FRP security differs with each updated Android version and phone. Remember to always keep the Gmail account details to avoid FRP protection locks.
The FRP is automatically turned on once you've created a Google Account on your Samsung Phone. After you reset your phone, but without taking out your Google Account, you have to sign in using your exact Google ID and password that you previously set up on the device in order to get around this Google account verification security that is installed on the Samsung phone.
If you find that your device has stopped at an FRP verification page, and you've forgotten the details of your account, these easy steps will assist you in removing the Google account lock from your device.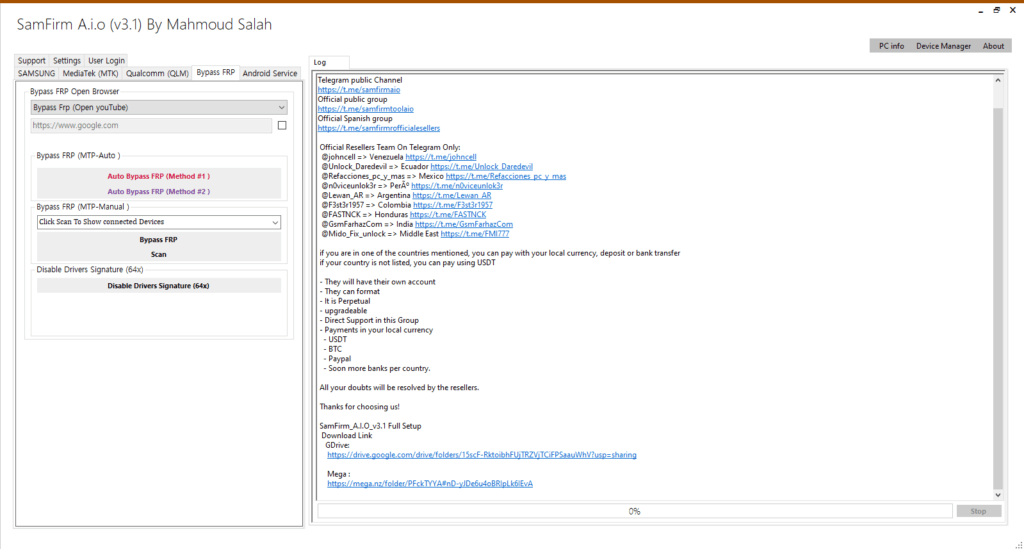 Download SamFirm Tool V3.1 Free FRP AIO Remove Tool
Features SamFirm Tool:
Portable Application:
It's an app that can be used on any device which means that you don't need to install it on your PC in order to use it. Extract and download the program onto your computer and you'll be able to download the firmware for your Samsung device in a flash.
Light Weight:
It requires a small amount of memory on the computer when installing Samsung stock firmware. Samsung stock firmware to the computer. It could use a certain amount of memory in the computer in order to unlock the firmware stored on the computer. The process of decryption could take a few minutes to be completed.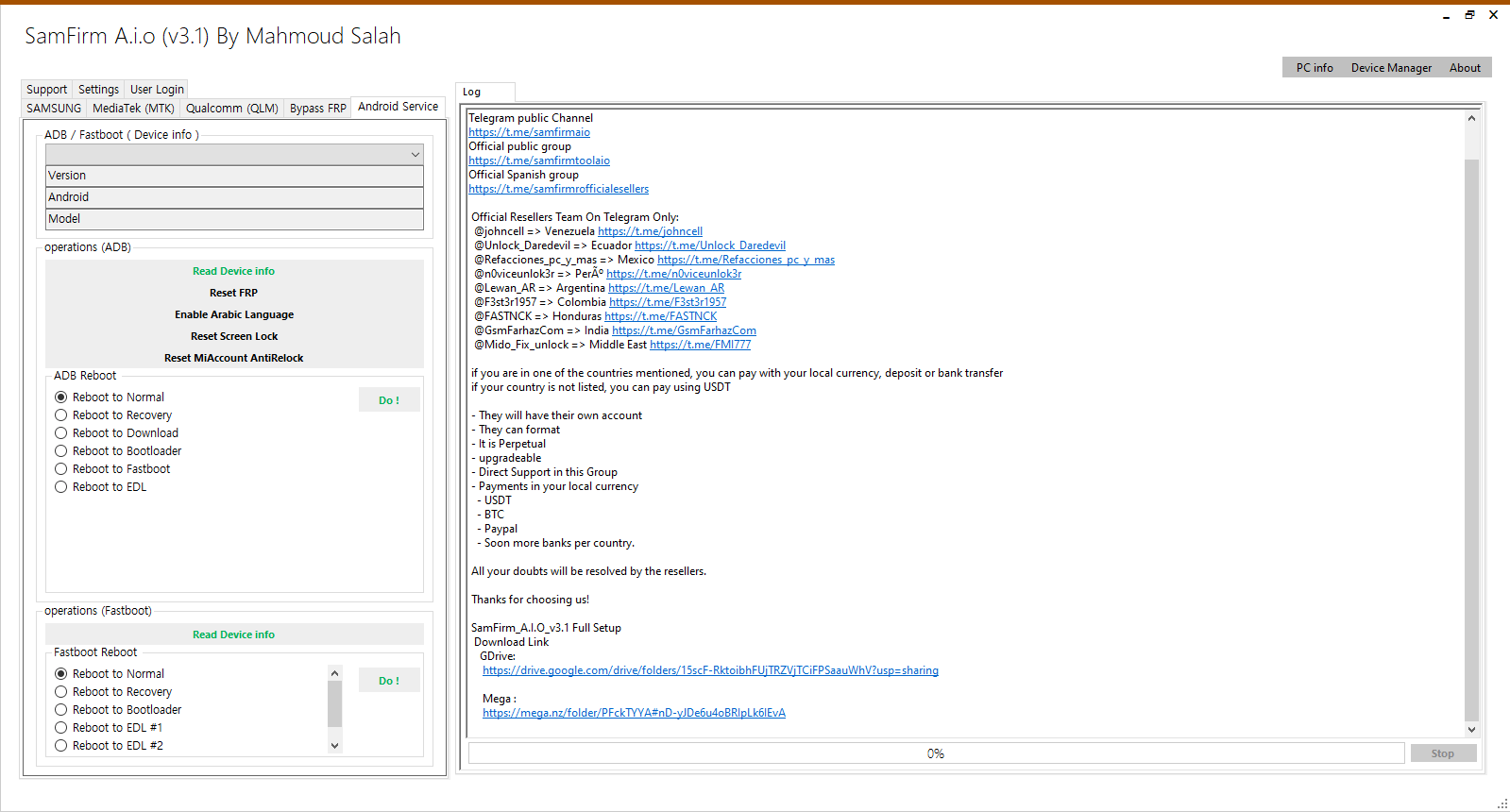 Download Firmware:
It lets you download the Samsung Stock Firmware to your personal computer, regardless of whether it's an md5 or the tar firmware. The tool first installs firmware in an encrypted format that can be decrypted once downloading the firmware is completed.
Multiple Options:
It lets you look up the firmware with the Model Number, Region and Model. You can also search for the Firmware manually by typing it into the PDA, CSC, and Phone. This allows you to see the entire name of the firmware, its version, as well as the dimensions of the firmware you're searching for.
Software Tools:
(I) Disable Driver Signature (ii) Disable Test Mode (iii) Device Manager (iv) Fix C++ 2008.2010 (V) Download.
Software Flash Tools
Apple

Samsung

USB Drivers

Samsung USB Drivers

FRP Bypass APK

Download All FRP Bypass Tool APK for PC
Samsung
Firmware Info

Check Update

Download

Operations (MTP)

Read Device Info

Factory Reset

Enter Download Mode

Exit Download Mode
Apple (IPSW) Check for the latest version of iTunes and download
iPhone: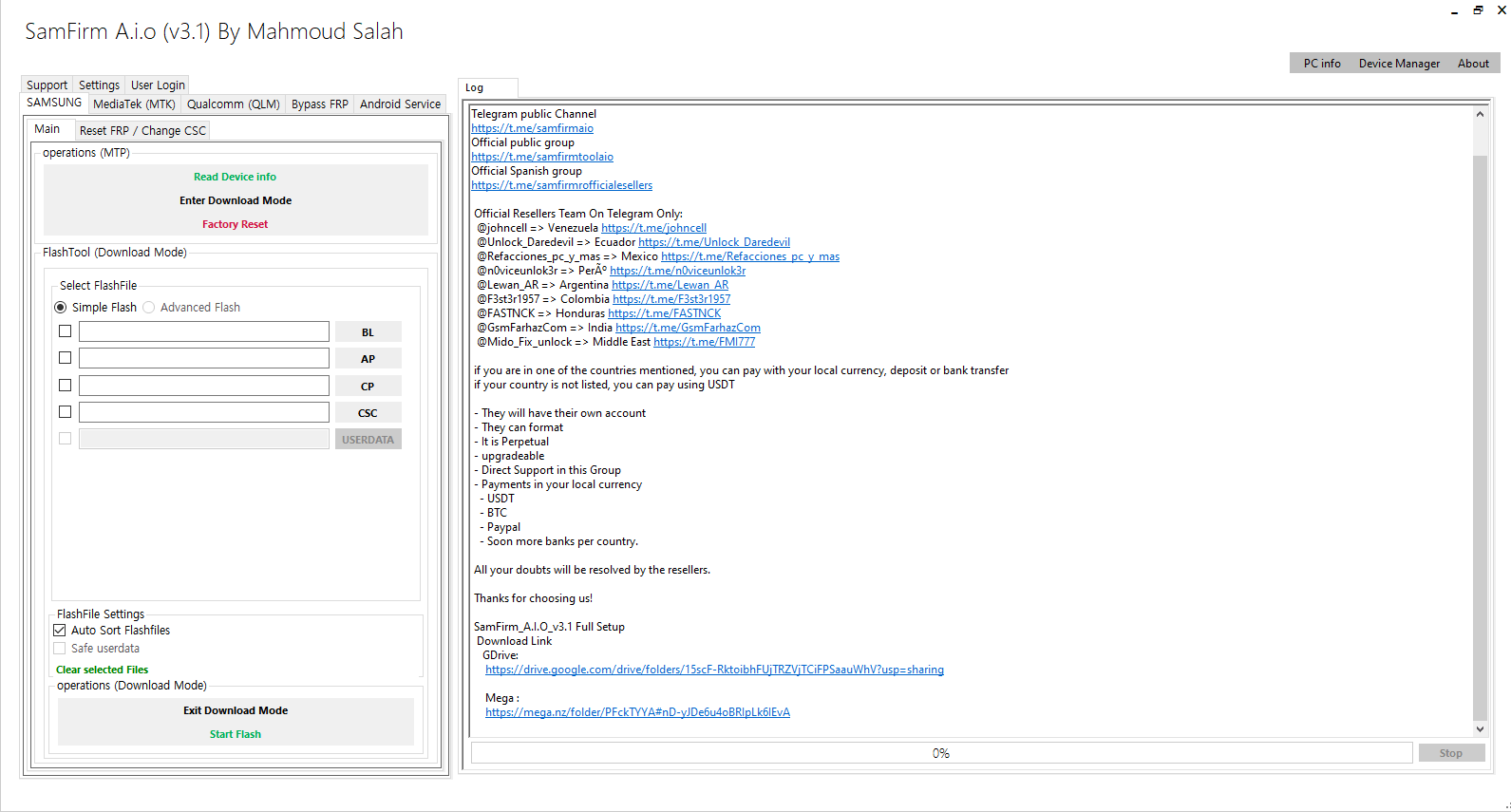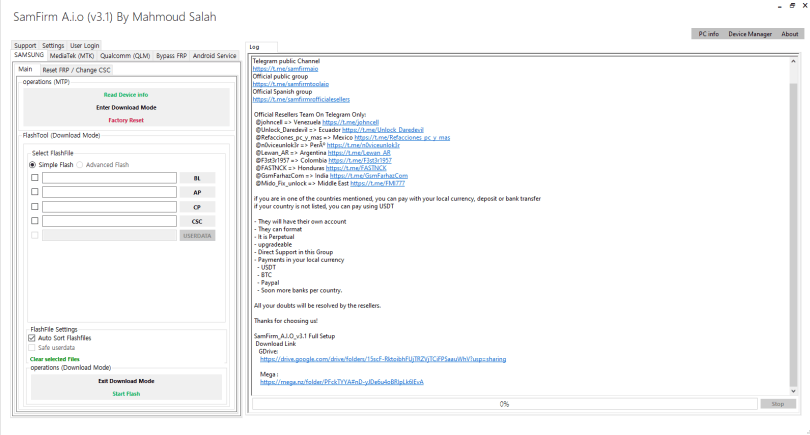 Bypass FRP (MTP Mode)
Bypass FRP =>> (I) MTP Bypass FRP (II) Make Shorturl

GS_Hidden Settings Via (Galaxy Store)

Bypass FRP (Open YouTube)

Bypass FRP (Open Maps)

Browser Via (Galaxy Store)

Smart Switch via (Galaxy Store)

Samsung Pass via (Galaxy Store)

Easy Settings via (Galaxy Store)

Samsung My Files (Galaxy Store)

File Commander Via (Galaxy Store)

FRP Bypass All_In_One.apk
Changelog!!
!
SamFirm_A.I.O_v3.1 New Full Setup
The FRP reset feature was added with a single click to normal operation (Free There is No Need to Create Login)
added changed CSC (Free There is No Need To Sign In)
How To Use?
In the beginning, you must first download the file using the link below.

Install the setup file

Next, you can go to " C:\SamFirm"

After that go to the folder in which you will need to extract the entire file

Run the " SamFirm.exe"

After that, you'll need to install all drivers, if you already have them installed. If not, skip this step.

Connect the phone and attempt to perform any task

Enjoy !!

!
README:
Support: The tool is compatible with Windows XP, Windows Vista, Windows 7, Windows 8 Windows 8.1 along with Windows 10 (32-bit and 64-bit).
Make a Backup: If you are interested in trying the tool above, you should backup your personal information from Your Android Smartphone or Tablet. Because flashing any firmware or recovery could damage the device.
Credits The SamFirm tool is developed for distribution by its developer. Therefore, all credit goes to the developer who distributes the program for free.
Download Link:: Mediafire – Usersdrive –Mega – Google Drive – 4shared – OneDrive – Tera Box