T-Unlock Tool 2.0.0.4
T-Unlock Tool is a small Windows computer tool. allowed users to remotely unlock Samsung and LG phones with a single click. The T-opening team has always provided a free username and password for all users and another credit balance is also trying your luck if there is an account available in the credit balance you can unlock any phone easily.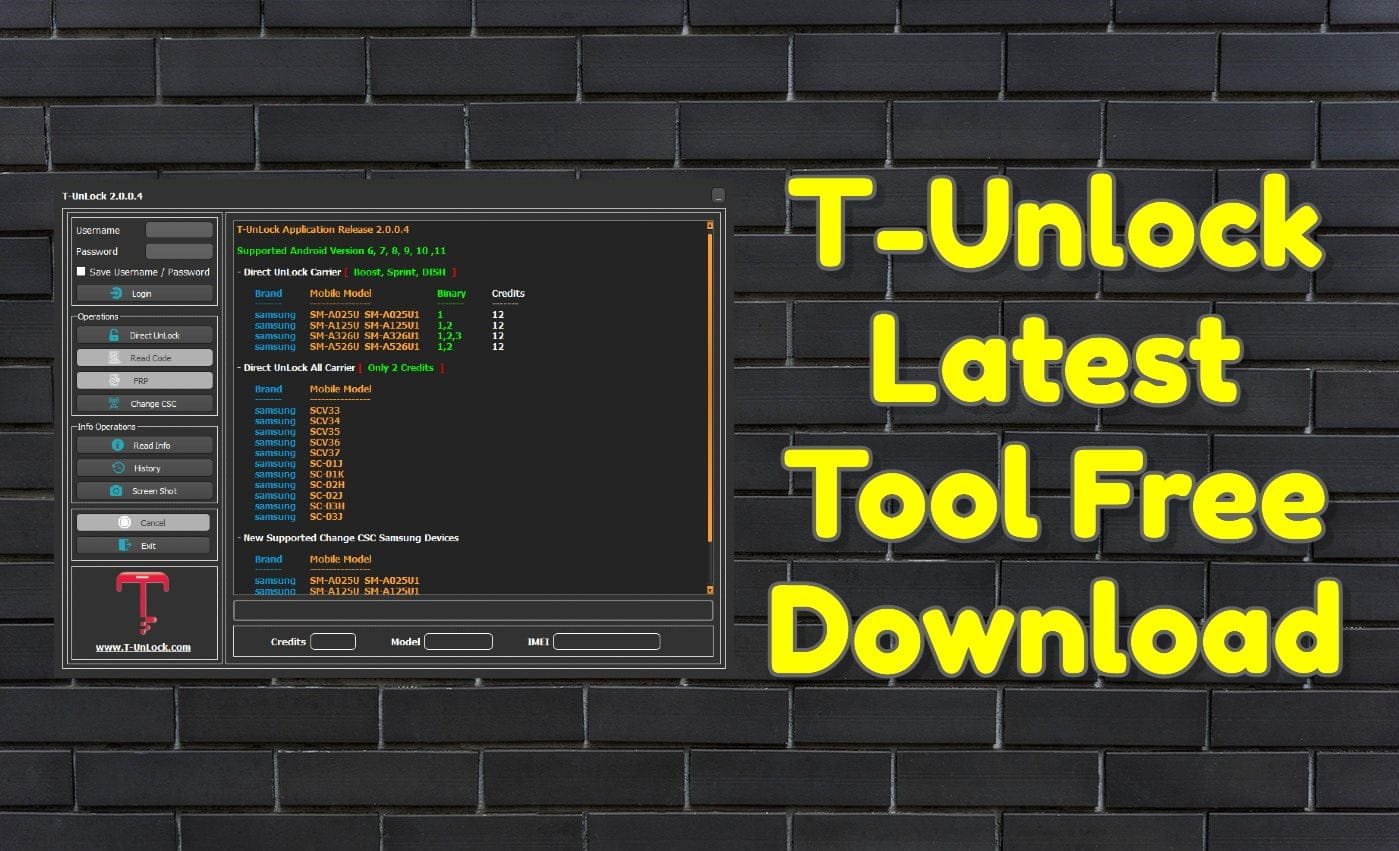 Features:
One
Just click (Open) button on T-UnLock Application and wait until you finish unlocking your phone
OPERATION 24/7
Fully Independent Server, Open Anytime
ANDROID
Supports Android Versions 4, 5, 6, 7, 8, 9, 10, 11
Supported models
Release of the T-UnLock 2.0.0.3 application
Android Version 6, 7, 8, 9, 10,11
– Direct UnLock LG Mobiles
Credits Brand Mobile Model Model Name
——- —————- ————————— ————- ———-
LG LM-Q730 LG Stylo 6 MetroPCS, T-Mobile 10
LG LM-Q730MM LG Stylo 6 MetroPCS, T-Mobile 10
LG LM-Q730TM LG Stylo 6 MetroPCS, T-Mobile 10
LG LM-K300 LG Aristo 5 MetroPCS, T-Mobile 10
LG LM-K300MM LG Aristo 5 MetroPCS, T-Mobile 10
LG LM-K300TM LG Aristo 5 MetroPCS, T-Mobile 10
LG LM-K500 LG K51 MetroPCS, T-Mobile 10
LG LM-K500MM LG K51 MetroPCS, T-Mobile 10
Direct to unlock LG
Guide to unlock Samsung
SM-A102U, SM-A102U1, SM-A115U, SM-A115U1, SM-A205U, SM-A205U1, SM-A215U, SM-A505U, SM-A505U1, SM-A515U, SM-A515U1, SM-A516U, SM- A516U1, SM-A600P, SM-A705U, SM-A705U1, SM-A716U, SM-A716U1, SM-F700U, SM-F700U1, SM-F707U, SM-F707U1, SM-F900U, SM-F900U1, SM- F916U, SM-F916U1, SM-G770U1, SM-G781U, SM-G781U1, SM-G960U, SM-G960U1, SM-G965U, SM-G965U1, SM-G970U, SM-G970U1, SM-G973U
, SM-G973U1, SM-G975U, SM-G975U1, SM-G977P, SM-G981U, SM-G981U1, SM-G986U
, SM-G986U1, SM-G988U, SM-G988U1, SM-G991U, SM-G991U1, SM-G996U, SM-G996U1, SM-G998U, SM-G998U1, SM-J327P, SM-J337P, SM-J700P, SM -J727P, SM-J737P, SM-N960U, SM-N960U1, SM-N970U, SM-N970U1, SM-N975U, SM-N975U1, SM-N981u, SM-N981U1, SM-N986U, SM-N986U1, SM-T307 , SM-T387P, SM-T517P, SM-T547U, SM-T587P, SM-T597P, SM-T727U, SM-T837P, SM-T867U, SM-T878U, SM-T978U
ID AND PASSWORD:
READ:
Interaction: Windows XP, Windows Vista, Windows 7, Windows 8, Windows 8.1, and Windows 10 (32 bit and 64 bit) fully functional.
Take a backup: When you're ready to try the above tool, please save your data from your Android smartphone or tablet. As firmware or light recovery can be a brick tool.
Credit: The T-opening tool was developed and distributed by the developer V2.0.0.3. Therefore, full credit goes to the developer to share the tool for free.