FRPFILE RAMDISK Tool v1.8.1 Latest Download
FRPFILE RAMDISK WINDOWS TOOL AUTO FIX DRIVER
Passcode bypass disables iOS 11-15 No jailbreak data and iCloud service Notification.

You can bypass the hello screen, an untethered baseband problem IOS 15. (no signal) no jailbreak, login into iCloud.

Devices support:

iPhone SE 1, 6s, 6s plus, 7, 7 plus, 8, 8plus, X iPad 5th, Air 2, Mini 4, 6th, 7th
GUIDE for Hello Screen
Oder ECID

Switch the SN to DX8QWDEZFFG8 using the Magic CFG (MAC) (MAC), repair box, or iBox. Tools (Windows) or the WL Tool (Windows) (A9 requires cable DCSD, while A10 and A11 don't require Lightning cables)

Open FRPFILE Ramdisk Tool gets Activate file at Hello Screen mode.

Boot Pwned by Ra1nUSB or FRPFILE_RAMDISK on Mac

Then, you can open FRPFILE Ramdisk and then activate the device.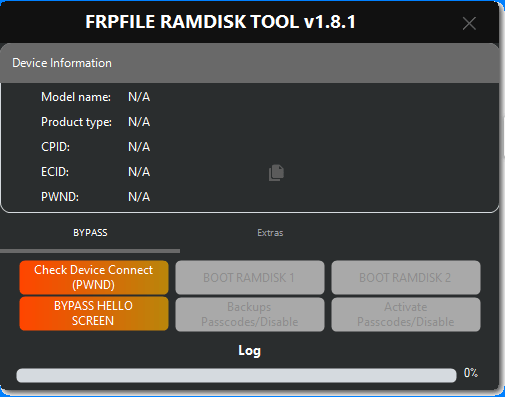 PRICE per phone
iPad 12$

iPhone SE1, 6s, and 6s Plus 12$

iPhone 7. 7 plus 14$

iPhone 8, 8 plus, X 16$
For deposits panels d.m Call WhatsApp by calling +84948.053.789
HOW TO PAYMENT
Crypto
BTC: 1PWXUqT7Vy6cK3WJgSmYt5duKAS9z59Eut

USDT TRC20: TSstPJQ3tLgAiVSW8XvMCXoAXG7Ljj7pHj

Address ERC20, BEP20 : 0x54905aad7d40e87379df77dbc2570cf65423371c

BINANCE P2P:

BINANCE PAY: 207191317

PAXFUL USENAME: NGUYENVANDANG

If you would like to exchange your coins with me, DM me
WESTERN UNION send Cash Pickup ( min deposit 100$)
Be the first initial.

Name: PHAM THI

Address: Le Mao Street, Vinh City, Nghe An Province

City: Vinh

Country: Viet Nam

Mobile: (+84)89245820

Once you have received the payment, after you have paid the money, you need to give me the code and the name of the person who sent the money. (The sender's name has to be typed in English name only; There aren't any particular characters)

For example, True Sender name: Angelina Jolie.

Name of the Sender: Tai Yang or Scarlett-Johansson or LSHMS
BANKING SWIFT
Nom of person who received it: NGUYEN VAN DANG

Bank number 108001584534

Bank's name: Vietnam Joint Stock Commercial Bank for Industry and Trade

Bank address: No.231, Labuan Street, Trung Do Ward, Vinh City, Nghe An Province

The SWIFT number VietinBank: ICBVVNVX442
PWND_FRPFILE_v1.0 (ra1nusb) boots Pwned Mode windows for A9/A10/A11 devices. Use balenaEtcher along with Transmac software to build a USB Boot 2. In BIOS, you can disable Secure Boot. SATA Mode is the AHCI (Work mode)3. mode)3. Open ra1nusb, then open Terminal, and select "menu" to open menu PWND_FRPFILE4. Following boot, the pwned was completed. After that, you can open the FRPFILE_RAMDISK's window and disable the device.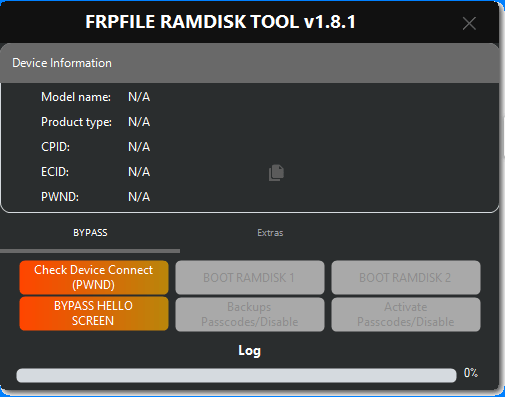 File Download:
README:
Compatibility: The tool can be used with Windows XP, Vista, Windows 7, Windows 8, Windows 8.1, and Windows 10 (32-bit and 64-bit).
Make an archive of your data. If you want to test this tool, create a library of your personal information using your Android Smartphone and Tablet. Flashing any recovery or firmware can cause your device to become damaged.
Credits: The FRPFILE RAMDISK tool was created by the developer. Thus, all praise is due to the person who developed the program for free.
Download Link:: Mediafire – Usersdrive –Mega – Google Drive – 4shared – OneDrive – Tera Box