Huawei Service Tool v5 Free Download | Need TOKEN NUMBER FOR ACCESS THE TOOL
FUNCTION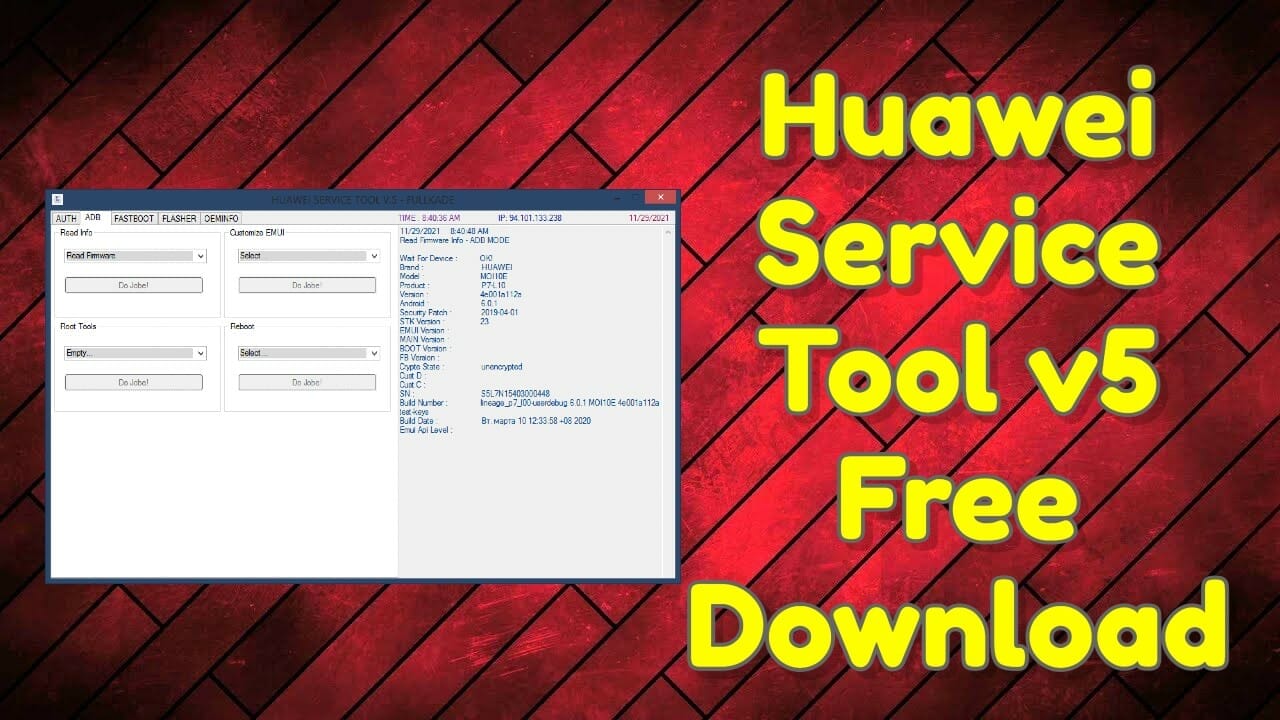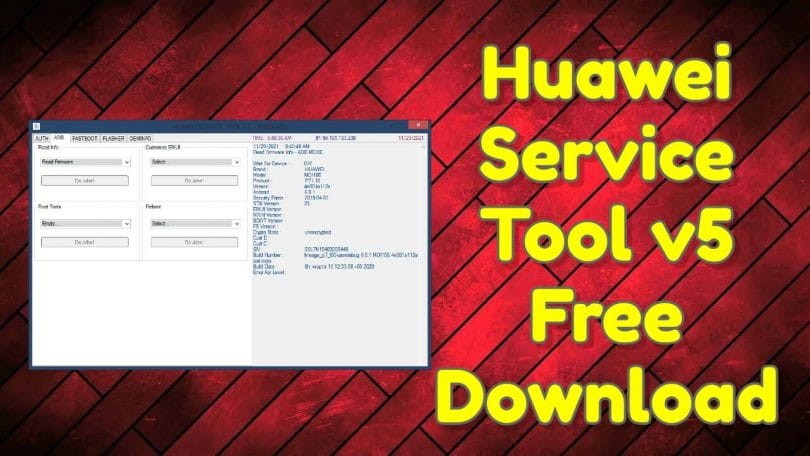 Download the comprehensive Huawei Full Code online services
tool Extracting and flashing Huawei ROM software from Fast Boot
Huawei UPDATE.APP extracting and flashing tools from Fast Boot
along with training on using online support
Full proprietary Full Code tool made for Huawei
You will only be given a token to use this tool if you have purchased the full code online service.
Use this tool only with full code support tips after purchase. (Otherwise, you will get in trouble)
In the Huawei online service, we explained to you that first we unlock the bootloader of your phone and then we activate the access permission to flash all the ROM partitions of the fast boot.
Note that unlocking the fast boot alone will not solve your problem and you must use our service to activate the fast boot license and then you can flash all parts of the ROM completely.
We have created this tool for your convenience. To use it, simply extract the UPDATE.APP ROM file and then flash it on the fast boot with the push of a button. Follow us to see the tutorial of this tool.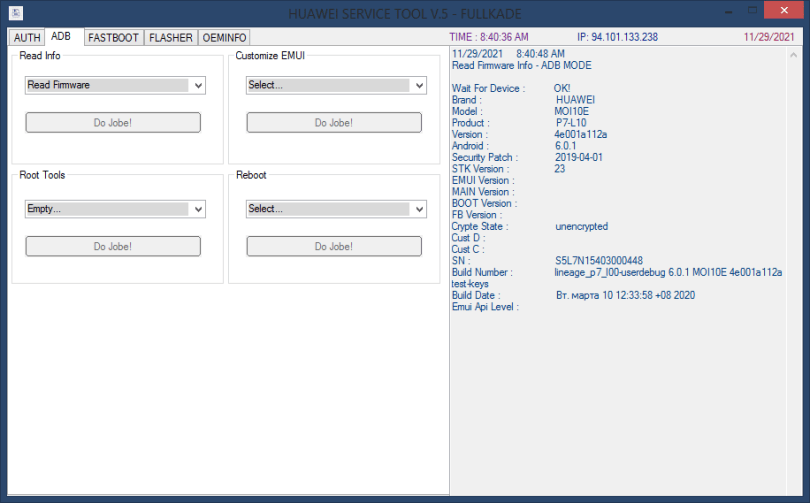 Like, Follow, Subscribe me on :
All Mobile Firmware:: Link
Features:
Redesign and optimize tools
Add ADB section
Display software / hardware / network / battery information in ADB mode
Add reboot capability to bootloader / recovery / system in ADB mode
Add Persian language capability to Huawei devices
Add smart information display section in fastboot
Add bootloader and FRP unlock section by unlocking code
Add single partition burn section in fastboot and select file from the user system
Add complete hard drive / region / version / model / vendor country / memory
Add the Flash section as a supplement and flash the CUST & PRELOAD files
Support for unblocking 810 and 990 chips in the new update
Unblock support for Helio devices in the new update (requires bootloader unlock)
Add file section of regions in a separate tab and select based on chipset/model/region
Add the file burn section of the dedicated full code areas to the file provided if it is not in the list of program areas
Add the ability to delete FRP and Huawei ID to Android 10 by the program and after connecting to the server in test point mode
Fixes bug fixes
Fixed a bug showing the wrong logo when changing the area
Apply bootloader patch to downgrade and upgrade ROM automatically for high-silicon and Qualcomm chips
Apply hard partition repartitioning when burning the firmware automatically
How To Use?
first, click on the Load button to select your UPDATE.APP file.
Then click on the EXTRACT button.
Extracted Full Code (FLK) format files are extracted from your ROM in the FULLKADE folder next to the same UPDATE.APP file.
Clicking the Show info button will display the ROM file details.
Clicking the OPEN PATH button opens the folder of extracted files.
After extracting the files, it is time to flash them on the phone.
Connect the phone to the computer in fast boot mode. (Huawei Fast Boot Tutorial)
There are three ways to flash the extracted partitions.
First button: Flash ALL (ERASE ALL)
Flash all items and factories and erase data
Second button: Flash SAFE Flash all items and storage of user information (if not damaged)
Third button: Patch BootLoader
to install other versions of Android in fastboot,
currently only suitable for high-silicon
Attention
In the first and second case of flashing the ROM file that you need to extract, it is enough that the Android version is the same as the version on the phone. (Build number and do not matter)
Full code support will also guide you when you purchase the service.
Since the release of v5.0, we have improved and optimized the service tool. We have updated the tool to be more flexible, easy, and user-friendly.
For those who are interested in unlocking the bootloader, you can get it by following the below procedure:
1) For Android 4.2 (Jelly Bean) and above: Download the recovery file for your device from here.
2) Flash recovery file for your device using flash tool.
3) Boot into recovery mode by hitting the Volume Up + Power button simultaneously.
4) Select "Install from SD card" or "Install ZIP from SD card" option and choose "Huawei Service Tool v5 Free Download".
5) Choose the language you want to use when installing the Huawei Service Tool v5 Free Download file, tap the "Next" button.
Recently, we released a new Huawei service tool v5 free download. This tool is useful for unlocking the bootloader and flashing all the ROM partitions of the fast boot. We recommend that you use it to flash your phone as soon as possible after you receive it so that you can enjoy the phone's full functionality before it's too late.
Once you have unlocked your phone's bootloader and flashed all the ROM partitions of the fastboot (provided you have a device that supports this), flash them again with a custom recovery installed on your phone. The process might take some time depending on which ROM partition you are trying to flash, but usually, the process will be completed within a few minutes. If there are any problems in booting or flashing, please refer to our FAQs or contact us.
Unlocking the fastboot using the OEM code
After you have unlocked the bootloader of your phone, you must download the Huawei service tool v5 from the Android Police site to flash all the system partitions. After this download, you must perform a backup and restore process to bring up a list of all the partitions that have been flashed.
It is very important to note that this procedure can only be performed once. If you perform it twice, you will get an error message as follows:
"There was an error during the flashing process. Please make sure that all partitions have been installed successfully."
The reason for this is that each partition may be flashed in its own directory (there are different directories for different partitions), and there is no way to tell whether they were all installed successfully or not! So the best thing is to perform your backup earlier so that if any of them fails during flashing, it is possible to recover from it by performing a restore.
And now, let's see how long this procedure can take:
1) Download and install "Huawei Service Tool v5" on your computer 2) Connect your device using USB cable 3) When prompted for a password, enter "jfv1y7" 4) Select 'Play' 5) Select 'Flash ROM' 6) Select 'Install System Partitions' 7) Select 'Flash ROM' 8) Enter your device password 9) Wait for Flash ROM installation 10) Once done, confirm the change in status 11) After successful installation, select 'Done' 12) Your device will reboot automatically 13) When your device reboots again, allow yourself to unlock it again 14) If everything went right after first attempt 15), repeat steps 2-6 16), select 'Restart Phone' 17), select 'Done' 18), wait until phone reboots 19), play with Huawei service tool v5 again 20), select 'Install System Partitions Again' 21), select 'Flash ROM Again' 22), enter your device password 23), wait until Flash ROM installation 24), once done 25), confirm the change in status 26), after successful installation 27), select Done 28); let yourself unlock 29); repeat steps 2-4 30); one more time 31); select Done 32); let yourself unlock 33); repeat steps 2-4 34); so far 35). Let yourself unlock 36). Repeat step 1 37). Note: It's important not to break any partitions by accident 38). This procedure works with both Full and Developer Bootloader 39). You will
The update of the Huawei Service Tool v5 has been released. The purpose of this update is to unlock the bootloader and flash all the ROM partitions of your phone, as well as activate fast boot mode.
Flashing all partitions of the ROM using fastboot mode
The Huawei service tool v5 is a free download for those of you who want to flash all partitions of the ROM using the fastboot mode. Since this tool can be used on several Huawei devices, we suggest that you use it if you have a device that can be flashed with fastboot mode.
We received a lot of questions about the new tool. Although the tool is free, it does not mean that all your questions are answered. Since we have to keep running this service from time to time, we have to answer some more of your questions in this post. To keep our blog updated, we have to answer some more of your questions from time to time. Some of them are quite urgent and we would like you to take care of them.
Here is a list of the most important ones:
1. Can you update/install/clear all partitions on phone? – Yes, if you want us to help you with that or want us to help you clear partition after clearing partition then please go ahead and send us an email at [email protected]  (or send an SMS at +86-13-62094426)
2. What is the difference between Huawei Service Tool v5 and HSDevice? – If you want to know what service is, please read this article: http://www.huawei-service-tool-v5-free-download.com/hsdevice/ (in English) 3. How long can I use the service? – We will be able to support for 15 days for downloading for free until May 31st, 2016, so please use it wisely! 4. What is the cost structure of service? – There is no cost structure for sending and receiving emails etc… 5. I have a basic idea but do not know how to start on my project with service? – Send your idea as an email at [email protected] (or send an SMS at +86-13-62094426). 6. Is there any warranty on Huawei Service Tool v5? – There is no warranty on Huawei Service Tool v5 free download! 7. Can I share my project with other customers or peer review any existing projects using Huawei Service Tool v5? – We encourage all our customers and open source community members who may wish to learn how they could improve their own business model by sharing their ideas with other people via different channels like email or sharing a website or social media account will be welcome as long as they are not infringing any intellectual property right of Huawei Technologies Co., Ltd & its affiliates 8 . Do I need a software license when using Huawei Service Tool v5? No, there is no software licenses required while using our software provided.