Download KH Mobile Tool V1.0.0
KH Mobile Tool V1.0.0 is a small tool that works on Windows computers. It lets users unlock mobiles in a few clicks. It has also added MTK along with Android new features that allow you fix your Android device without the need for a box or dongle by using this tool for free. The tool does not require to activate or purchase any license in any location. For more information, read below and verify.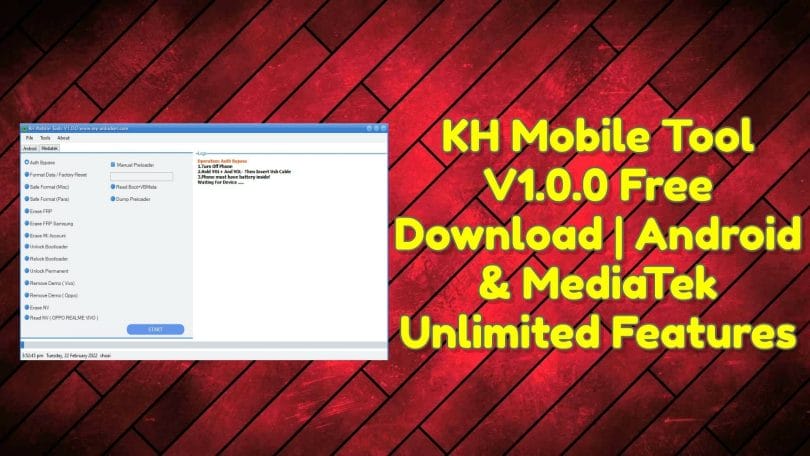 Like, Follow, Subscribe me on :
All Mobile Firmware:: Link
Features KH Mobile Tool:
– Read Information
– Factory Reset / Wipe (NoEncrypted)
– Remove FRP Lock Method 1
– Remove FRP Lock Method 2
– Remove MI Account
– Disable MI Account
– Relock Fix Mi Account
– Remove Samsung MI Account
– Factory Reset Xiaomi (Sideload Mode)
– Reboot Phone (Recovery Mode, Fastboot Mode, EDl Mode, Normal Mode, Safe Mode[Root/SU] )
– OPPO / Realme OTA Update (Disable / Enable)
– Enable Diag ( Qcom (Root SU) / Intel (Root SU) / OPPO OLD, New)
– Remove Pattern Lock (ROOT)
– Root Checker
– Start Button
– Auth Bypass
– Format Data / Factory Reset
– Safe Format (Misc, Para)
– Erase FRP
– Erase FRP Samsung
– Erase MI Account
– Unlock Bootloader
– Relock Bootloader
– Unlock Permanent
– Remove Demo [OPPO | VIVO]
– Erase NV
– Read NV (Oppo | Realme | VIVO)
– Manual Preloader
– Read Boott+VBMeta
– Dump Preloader
How To Use KH Mobile Tool?
First, you need to download the zip file from the below link
Next, you can unzip all files at c: drive it's very important
Next, open the folder which you have to extract all files
Run the "KH Mobile Tools V1.0.0.exe"
Next, you can install all drivers if you already installed skip this step
Connect the phone and try to do any function
Enjoy !!!
KH Mobile Tool is a tiny tool that can be used with Windows computers. It allows users to unlock mobiles with just a couple of clicks. Additionally, it has included MTK and Android innovative features. These let users repair their devices without having to purchase an external device or box by using the tool for free. It does not need activation or the purchase of any kind or any other way.
KH Mobile Tool V1.0 for Android and MediaTek Features – It's a small software that runs on Windows computers. It allows you to open your mobile. It's added new features after installing MediaTek along and Android advanced features that let you repair your Android smartphone without the need of an external device or box by using this tool free of charge. It does not require activation or purchasing any license from any location. Features KH Mobile Tool V1.0.

Download Link:: Link 1:: Link 2:: Link 3:: Link 4:: Link 5:: Link 6