MTK Auth Bypass Tool V48 Latest Version Free Tool. is a free Windows program that allows you to disable DAA and SLA Auth (Secure Boot Protection) on any MediaTek MTK-powered phone quickly.
MTK Auth Bypass Tool V48 Latest Version Free Tool
Today, every Android smartphone has USB protection that prevents third-party flashing and device abuse. Unlocking or flashing your phone without an authorized device or authorization is impossible. In this case, you'll need to use the MTK MediaTek Secure Boot Disable Software will assist you in removing the security of your auth phone.
MTK Auth Bypass Tool V48
MTK Authorization Bypass Tool 48 (MTK Meta Mode Utility) helps find all Oppo, Vivo, Tecno, Xiaomi Redmi, and Infinix MTK-based phones that are compatible with The SP flashing tool. It also includes Miracle Box, UMT MRT, and MCT CM2 Dongle to flash or unlock the phone. It is an auto-installer program and is compatible with Windows 11, Windows 10, Windows 8, Windows 8.1, Windows 7, and Windows XP (32 & 64bit) architecture.
Features MTK Auth Bypass Tool:
MTK Brom Mode:

– Disable Auth

– Dump Preloader

– Crash Preloader

– Crash Preloader To Brom

– Samsung MTK Force Brom (DM)

– Samsung MTK Exit Brom

– Samsung MTK Rebuild PMT (DM)

– FRL-L22 Y9A Force Brom

– Reboot Meta

– Reboot AT Mode

– Reboot Factory Mode

– Reboot Fastboot Mode

VIVO New SEC Read more information (FM)

– Analyze MTKA DA

– Analyze Preloader
META Mode:
– Read Meta Info

– Read Part (META)

– Format Part (Meta)

– Write Part (Meta)

– Dump MDDB/APDB (META)

– DUMP NV Regions (META)

Dump User Area (Meta)

– Dump PGPT (Meta)

– Dump EXT_CSD (META)

– EMMC Health Check (META)

– Factory Reset – META

– Factory Reset – META 2

– Gen FRP Reset PKG (META)

– Read NVRAM

– Wipe NVRAM

– Write NVRAM

– Unlock Network
Android Mode:
– Read ADB Info

– Read Fastboot Info

– Exit Fastboot Mode

– Xiaomi Enable Diag (ADB)

– Install APK (ADB)

– Disable the Payjoy APP (ADB)

– Generic ADB FRP Bypass

– Generic Fastboot Factory Reset

– Generic Fastboot FRP Wipe

– Wipe NVRAM_NVDATA (Fastboot)

– Extract Super IMG

– Extract OFP (MTK + QCOM)

– Extract Samsung ROM (MTK)

– Extract Huawei UPDATE (MTK)

– Extract OnePlus ROM (.ops)

– Extract LG ROM (.kdz)

– Extract RedMagic (payload.bin)
Extra Features:
– Samsung Reboot to Download Mode

– Samsung Read Info Download Mode

– Samsung Factory Reset (MTP)

– Samsung Activate ADB (MTP)

– Huawei Fastboot To Upgrade

– Huawei Normal To Upgrade

– VIVO Demo Remove (AT)

– VIVO Demo Remove (MT6877T)

– PGPT to Scatter

– Scatter to PGPT
Supported CPUs:
MT6572

MT6580

MT6582

MT6592

MT6595

MT6735

MT6737

MT6739

MT6753

MT6755

MT6750

MT6750M

MT6750T

MT6750S

MT6757

MT6761

MT6762

MT3369

MT8766B

MT6763

MT6765

MT6768

MT6771

MT6779

MT6785

MT6795

MT6797

MT8127

MT8163

MT8516

MT8173

MT8695

MT6873

MT6799

MT8590

MT6781

MT6768

MT6883

MT6885

MT6889

MT6833

MT6853

MT6853V

MT6873

MT6891Z

MT6893

MT8765WB

MT8385

MT8183

MT8666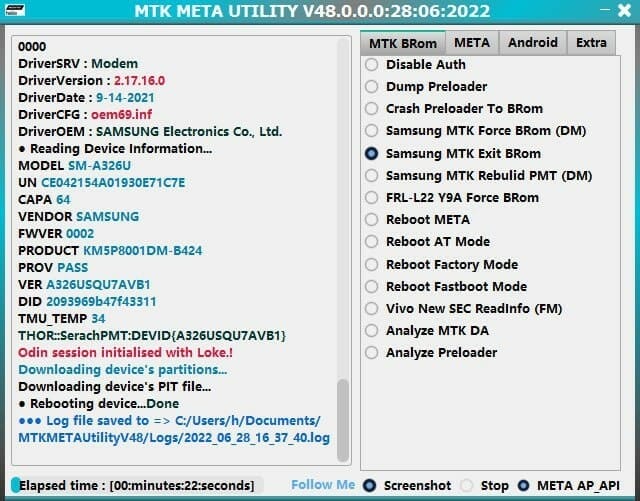 Changelog!!!
MTK META Utility V48 :
Samsung MTK with one click Force/Exit BootROM, without a testing point.
No need to rebuild PMT or select PIT/Preloader files; All processes are now automated.
Tested on all Samsung devices running MTK chipsets (MT6761) and higher.
Preloader files have been decrypted, and developers can use them in their software.
– Fixed reboots of MTP into Download Mode.
– Removing the warning message: We have verified and checked that the method works for all Samsung devices equipped with MTK chipsets.
– Fixed (status_emi_setting_version_error).
– Corrected V45 bugs. It is recommended to ignore earlier versions and use this version.
– Next Task (KG Locked and VIVO New security ) and VIVO Demo Removal for (MediaTek Dimensity 810) I hope it will succeed soon.
* Don't attempt this method using :
– Devices that have Kg (Locked/Active).
– – Devices that have (sec CTRL state (0)).
The software costs $ and is provided "as is" without implied or express warranty.
In no way can the creators be held accountable for any damage caused by the use of this program.
— USE the software at your discretion.
How To Use?
Download and Unzip

 to download the MTK Auth Bypass tool and the MTK Meta Mode Utility on your PC.
Run 

MTKMETAUtility.exe

Install the 

LibUSB Win32 driver

 onto your PC (Skip this step if it's already done)

Switch off your phone.

Hold Volume Up and Power and insert a USB cable

Click Disable Secure Boot

If Disable Secure Boot process does not work, you can use Force BROM. Force BROM function.

That's it.

It can bypass it to bypass Auth Security from your phone.

You can now use any unlocking tool such as SP Flash Tool, Miracle Box, UMT, or CM2 to unlock your phone.
File Download:
README:
Support: The tool works flawlessly on Windows XP, Windows Vista, Windows 7, Windows 8, and Windows 8.1, along with Windows 10 (32-bit and 64-bit).
Create a backup: If you are interested in trying the above tool, you should backup the personal data on Your Android Smartphone or Tablet. Flashing any firmware or recovery could damage the device.
Credits MTK Auth Bypass Toolis developed and is released by its developer. Therefore, all credit goes to the developer who shared the tool at no cost.
Download Link:: Mediafire – Usersdrive –Mega – Google Drive – OneDrive – Tera Box