Download the Final MTK Author Bypass Tool V43
MTK Bypass Tool V43 (MTK Meta Mode Utility) is a free Windows program that allows you to disable DAA and SLA Auth (Secure Boot Protection) on any MediaTek MTK-powered device effortlessly.
MTK META Utility V43 – MTK Auth Bypass Tool V43 Latest Tool
Nowadays, each Android smartphone has USB protection that prevents the use of third-party flashing tools and prevents misuse on the part of users. You can't unlock or even spark the phone without authorization or a device from the manufacturer. In this case, you'll need you can use the MediaTek MTK Secure Boot Disable Software will aid you in bypassing the security of your auth phone.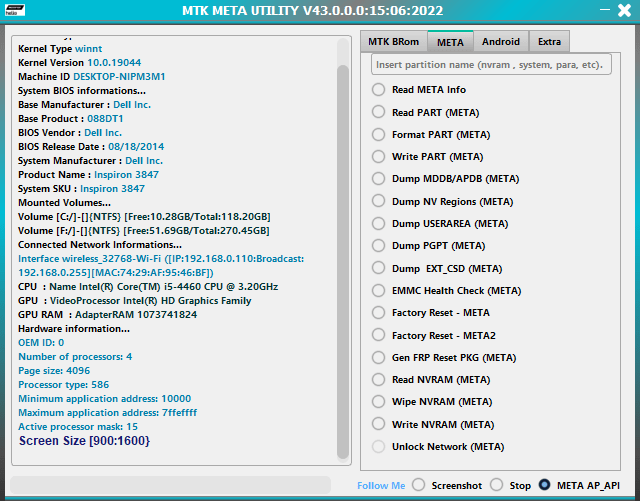 MTK META Utility V43
MTK Authorization Bypass Tool 43 (MTK Meta Mode Utility) helps to find the Oppo, Vivo, Tecno, Xiaomi Redmi, and Infinix smartphones that are MTK-based to The SP flashing tool Miracle Box, UMT MRT, MCT CM2 Dongle to flash or unlocking the phone. It is an auto-installer program and is compatible with Windows 11, Windows 10, Windows 8, Windows 8.1, Windows 7, and Windows XP (32 & 64bit) architecture.
Support Socs:
MT6572

MT6580

MT6582

MT6592

MT6595

MT6735

MT6737

MT6739

MT6753

MT6755

MT6750

MT6750M

MT6750T

MT6750S

MT6757

MT6761

MT6762

MT3369

MT8766B

MT6763

MT6765

MT6768

MT6771

MT6779

MT6785

MT6795

MT6797

MT8127

MT8163

MT8516

MT8173

MT8695

MT6873

MT6799

MT8590

MT6781

MT6768

MT6883

MT6885

MT6889

MT6833

MT6853

MT6853V

MT6873

MT6891Z

MT6893

MT8765WB

MT8385

MT8183

MT8666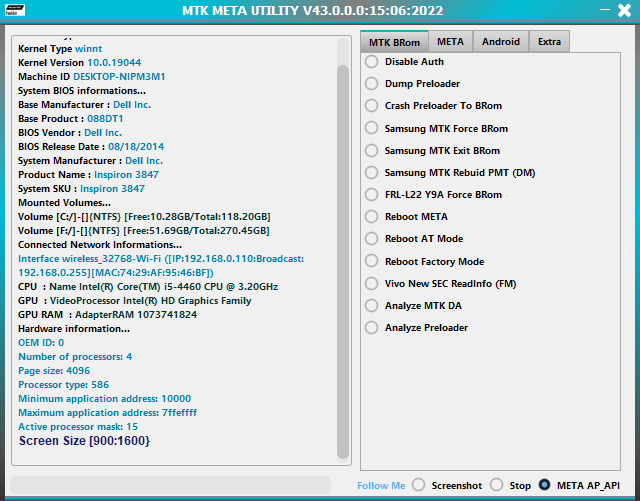 What's new in the MTK Meta Mode utility:
MTK META Utility Version 43:
• Improved Samsung Force Brom by removing download mode without test points and adding other devices.
In this version, we didn't completely replace the preloaded data. We only deleted the first character in the EMMC_BOOT1/UFS_LU0 and substituted that buffer with FF.
I have updated a list of preloader file types for the most popular Samsung MTK devices to exit the BITs.
MTK Auth Bypass Tool V43 Latest Tool
• Added a list of PIT files for the most commonly used Samsung MTK devices to exit the rebuild partition table to include all BITs.
The PIT that was originally PIT is saved along with the device's name and model, which can later be used to rebuild the PMT Download Mode following Exit BootROM.
The steps that are required to force/exit BootROM mode are described in the following images.
If you flash BL through ODIN, the device should start usually and connect to the system. If it has, it is not booted and asks to verify VBMETA AVB verification for partitions. – Except for the preloader. You must flash the full Firmware (4 files that have reparation activated).
– Corrected LG Preloader crashes and ports identification. The problem was by two interfaces that are (USB MODEM and USB Serial),
This means you can now provide support to LG devices that have blocked bottom. With META Mode, you can read/write partitions in NV and (md1img protect sections info).
– – Additional META mode information and a complete listing of build properties are standard on android devices.
GUI is fixed, and internal software functions are improved.
We're developing a solution to allow one-click exit Brom, normal booting to the system, and locking devices with KG. We hope to be available shortly. Please stay up to date.
We recommend this function for only (A326B/U/W and A125F, and A41) because these are the only devices we used within our laboratory.
Many users have said that many users have reported that Samsung MTK devices are ok with this method. However, we suggest testing only using the list of devices mentioned.
Please do not attempt this method on :
– KG Locked devices.
Devices that have Sec Ctrl Status 0.
– Tracfone devices.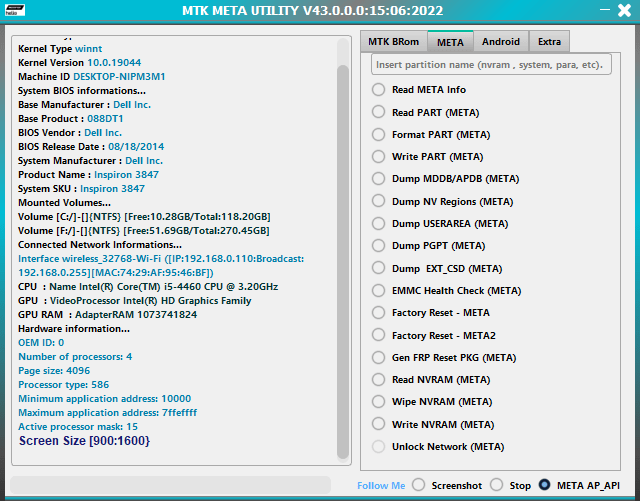 The software and services are provided "as is", without warranty of any kind, either express or implied, which includes but is not limited by the promises of quality, merchantability, fitness for a specific purpose, and non-infringement. You use yourself at your own risk.
How to Use?
Download and Unzip

 The MTK Auth Bypass tool and the MTK Meta Mode Utility onto your PC.
Run 

MTKMETAUtility.exe

Install the 

driver LibUSB Win32

 on your computer (Skip this step if it's already done)

Switch off your phone.

Hold Volume Up and Power and insert the USB cable

Click to turn off Secure Boot.

When the Disable Secure Boot process does not work, try Force BROM. Force BROM function.

That's it.

It will also bypass it to bypass Auth Security from your phone.

You can now use any unlock tools like SP Flash Tool, Miracle Box, UMT, or CM2 to unlock your phone.
Download Files:
README:
Compatible: The tool is compatible with Windows XP, Vista, Windows 7, Windows 8, and Windows 8.1, along with Windows 10 (32-bit and 64-bit).
Create a backup: If you are looking to test the above tool, you should back up the personal data on Your Android Smartphone or Tablet. Because flashing any recovery or Firmware could damage the device.
Credits The MTK Auth Bypass The tool was developed for distribution by its developer. The total credit goes to the creator for sharing the device at no cost.
Download Link:: Mediafire – Usersdrive –Mega – Google Drive – 4shared – OneDrive – TeraBox