MWorker Tool  v4.1 Rev 10 – Key Features and Bug Fixed  a versatile application designed for Windows computers specifically designed for Android devices, has received a significant update in Version 4.1 Rev 10. The user experience is improved overall because of the new features and enhancements in the most recent version.
MWorker Tool V4.1 Latest Version Download
RESELLER PRICING / REMOTE SERVICES
Whatsapp Group GSM
Telegram Group
https://t.me/Gsmatoztools
Unlock and flash Android devices with ease.
One of the best aspects that stands out in MWorker Tool is its ability to flash and unlock Android devices without difficulty. Although some functions may require a fee, most are free. For example, unlocking the bootloader on your Moto smartphone using fastboot mode is accessible by using this application.
Features M Worker Tool:
Repair/Unlock Module [Fastboot Options]
FRP Removal: Bypass Factory Reset Protection effortlessly.

MDM Remove: Get rid of restrictions on Mobile Device Management limitations.

Factory Enabler: Enable Factory Mode.

Fix Fastboot: Solve problems related to Fastboot mode.

Unlock Bootloader: Remove the bootloader on your device.
Repair Network Options
Auto Generate IMEI Automatically create IMEI numbers.

Dual IMEI Dual IMEI: Use two SIM devices.

Repair IMEI fix problems that are related to the IMEI.

Unlock Network: Unlock your device for network use.

Read Device Info: Retrieve essential device information.

Enable ADB (Factory Mode): Activate ADB in Factory Mode.
Service Configuration
MTK or SPD FRP: Control FRP in MTK or SPD devices.

U.S.A Service Cater to meet service needs within the United States.

Note: Write the Carrier and SKU. Change the settings for SKU and carrier.

Unlock Code Generator (8 Digit)

Generate 8-digit unlock codes.
Sprint/T-Mobile Unlock (ADB)
Lock Sprint and T-Mobile phones using ADB.

Restart ADB Service

Start your ADB service.

Read Device Info

Retrieve device information.

Save Backup

Protect your data by using backup capabilities.

Sprint/Boost Unlock

Lock Sprint as well as Boost devices.

T-Mobile/MetroPCS Unlock

Unlock MetroPCS and TMobile devices.
Flasher Pro (FREE)
Use the search function to find Fastboot devices: Easily find Fastboot devices.

Find Firmware by using SN Find Firmware easily by using the device's serial number.

Pick Model and Operation (Upgrade Flash, Full Flash). Select the model and operation you want to use.

Start Flash: Start Flashing.
Changelog!
Updated NCK CODE:

 Addressed problems relating to the NCK codes.

Created Repair SKUs in WriteCarrier Function: Improved settings for the carrier repair capabilities.

New FRP Updates and new security in new devices:

 Stay up-to-date with the most recent security standards.

Fixed Network Data (Locked Network after Repair or Unlock):

 Resolved network issues that could arise after the repair or after unlocking.

Qualcomm Flasher Active! (Download Firmware with SN Work ): > Qualcomm Flasher function is now available.

Sprint Module Active! Unlock and manage Sprint devices easily.
What is the best way to make use of it?
Download the setup file.

Setup file for extract

Setup the file

Launch the tool using your computer's " 

C:\Program Files (x86)\MWorker Tool

." Click on the " 

MWorker.exe

" File to run the MWorker Tool on your PC. 

If you are dealing with new users, you must first sign up for the tool 

After you click the link, you will be redirected to the MWorker tool's homepage. Click on the sign-up link.

Input all the required information, click "Enter", and then click the " 

Enter

" button.

After successfully entering your username and password, return to the tool. You can enter your username and password then log into the tool.

Make sure to register the fingerprint in the tool one at a time. (The New menu for POP opens in that menu; click the option available and enter the fingerprint data.)

The next step is to join your gadget to the PC and use the application.
Conclusion
Its MWorker Tool version 4.1 Version 10 update is essential for every Android user. MWorker Tool MWorker Tool is an excellent tool for fixing, unlocking, flashing, and repairing Android devices because of its broad operation, ease of use, and reliability.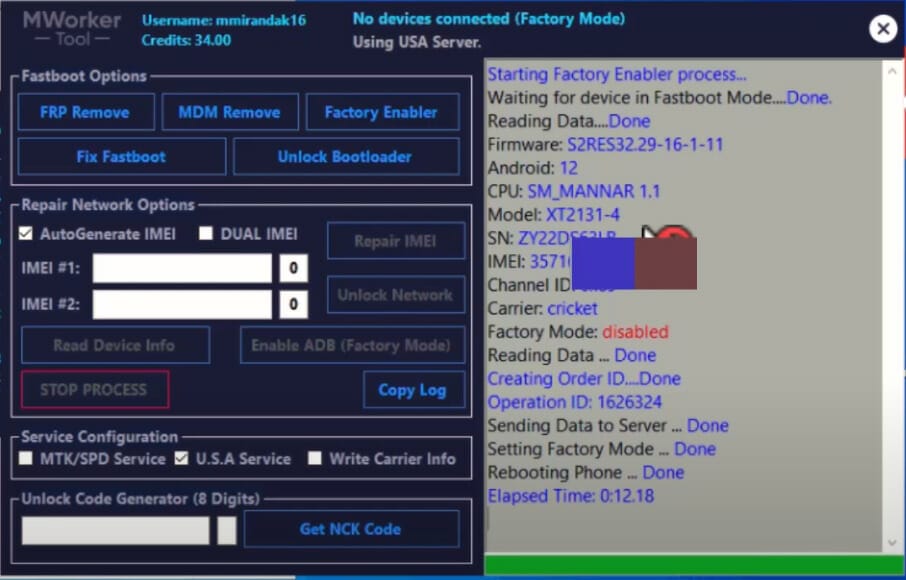 How to Download
Downloading is easy. Visit the Gsmatoztool.com and follow the instructions to download the tool onto your computer. Once you've downloaded the tool, you can begin unlocking your device. is a powerful tool designed to unlock your Android device . To Only ( Download Link)  simply follow the steps below:




Download Link:: Usersdrive – Mediafire – 4shared – Drive.Filen – FastuUpLoad  – Workupload – Sendcm