SamsungFRPTool v1.6
SamsungFRPTool v1.6 Direct FRP Unlock All SAMSUNG FRP Tool. Download is a beneficial Windows program that can deal blockage of FRP locks in Samsung Galaxy Android models. If your Samsung smartphone is locked on the FRP verification screen, follow these easy steps and download the Best SamsungFRPTool v1.6 on your PC. It can help remove the FRP verification lock. Google password verification feature without cost.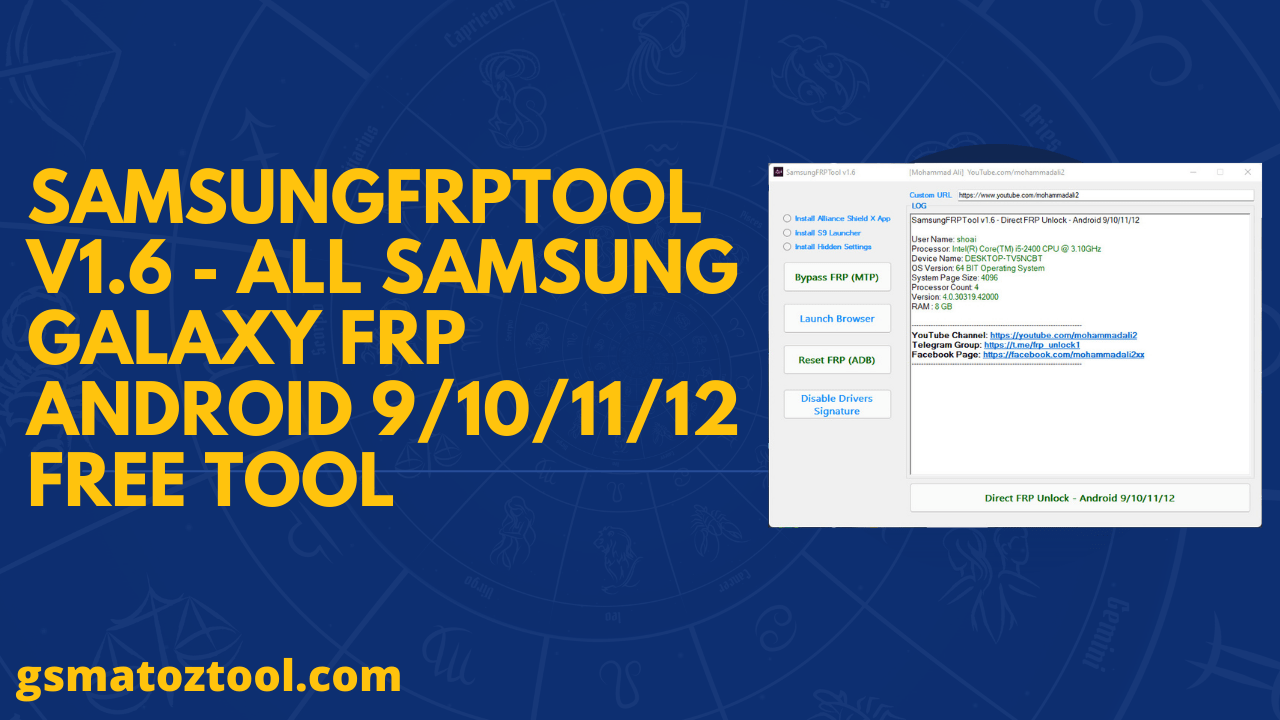 Read More Tool: FRPFILE RAMDISK Tool
Read More Tool: MTK Auth Bypass Tool V40
Read More Tool: SamFw FRP Tool 2.0
Like, Follow, Subscribe me on :
All Mobile Firmware:: Link
GSM ATOZ TOOL2
Samsung FRP Tool V1.6 Free Download. NO Emergency Call Fixed Samsung FRP Tool V1.6 FREE Android 9 10 11 12 FRP Solver + FRP Script 1Click.
SamsungFRPTool v1.6
Android 9/10/11/12 via SamsungFRPTool v1.6. FREE Tools. Fixed Emergency Calls Not Working Download and open the text document called the Direct FRP Mobile link to view the Painfully explained and simple method to make x5 times faster FRP Lock Unlock.
SamsungFRPTool
SamsungFRPTool v1.6 is a no-cost Google Verification unlock program which lets users bypass the FRP lock on all Samsung Galaxy Android Lollipop 5.0 Marshmallow 6.0 and Pie 9.0, Nougat 7.0, Oreo 8.0 10 Q Android 11, and Android 12 S version devices through phone dialer/mobile browser/ADB/MTP or Download Mode. It also lets you solve issues with soft bricks. Soft Brick Problem and Reset factory data quickly.
SamsungFRPTool v1.6 Direct FRP Unlock All SAMSUNG FRP Tool
If you'd like to enjoy a pain-free experience, download the top Samsung FRP bypass tool 2021 from the links below and effortlessly remove the FRP lock from your Samsung phone.
The process of making use of to use the Best Samsung FRP Bypass Tools is easy to follow. Simply launch the Tool and connect your Samsung device to MTP, Download, or Fastboot Mode. It will then be able to unlock or fix your phone. Make sure that you've installed the correct USB driver to use the Tool without causing issues.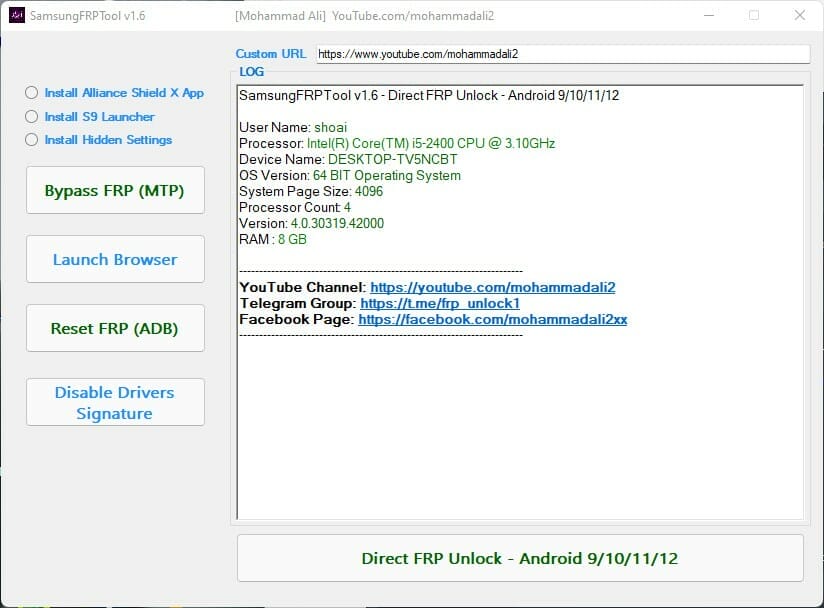 Direct FRP Unlock All SAMSUNG FRP Tool
Google offers the FRP feature in every new Android system. The most concise description of the factory reset security is known as FRP. It is designed to safeguard Android customers' private information and privacy from theft. The procedure to unlock FRP security is different for each version of the Android versions and phones. Always remember your Gmail account details to prevent FRP security lock.
What can Samsung FRP Tool do?
If you own mobile with an FRP lock-enabled message, let me inform you that you won't use it straight up without testing your password for your GMAIL ID. This Samsung FRP Bypass Tool is designed to make the process simpler that requires you to enter the login credentials, allowing the user to log in to the device using no password.
We have provided the latest and most effective Samsung FRP Bypass Tool, which can unlock every Samsung Qualcomm, SPD, Exynos, MTK powered Galaxy Android phone with just one click, for no cost. So, download the top Samsung Unlock Tool below and follow the on-screen directions to use it quickly.
Features SamsungFRPTool:
Alliance X Shield App installation (Galaxy Store)

Install the S9 launcher

Install Hidden Settings

Bypass FRP (MTP)

Launcher Browser

Reset FRP (ADB)

Enable ADB (VZW)

Disable Drivers Signature

That's it.
SamsungFRPTool v1.6 Direct FRP Unlock All SAMSUNG FRP Tool
Changelog !! !
All SAMSUNG Galaxy FRP Android [9/10/11/12] via FREE SamsungFRPTool v1.6 –
No emergency call *#0*#
Added – Direct FRP Unlock Button
How To Use?
Install Samsung USB drivers by navigating to the driver folder.

Include SamsungFRPTool.exe in the Antivirus Exclusion List

(because EXE is protected and can be detected as malware if you do not believe in it, so Do not use it. It's that simple.)

For bypassing the FRP (MTP), click:

This will directly open it to the "YouTube" Application on Samsung Devices.

Select Terms and Privacy policy to open the Chrome App following that

Look for "Install S9 Launcher" and Click Bypass FRP (MTP) button:

It will immediately open your "Galaxy Store" > "S9 Launcher Theme" App for SAMSUNG Devices

Look for "Install Secret Settings" and then click the to bypass FRP (MTP) button:

This will open directly to the "Galaxy Store" > "Hidden Settings for Android" App for SAMSUNG Devices

Click Launch Browser:

If you cannot have "VIEW" on your phone, you need to Bypass FRP (MTP) and then click the Launch Browser button.

The reset FRP (ADB) button:

This will Bypass FRP lock on any Android device that is USB Debug enabled

Disable Driver Signature:

This will disable the driver signature in Windows. After that, you must restart your PC.
README:
Support: The Tool works flawlessly on Windows XP, Windows Vista, Windows 7, Windows 8, and Windows 8.1, along with Windows 10 (32-bit and 64-bit).
Create a backup: If you are looking to test the Tool above, make a backup of your personal information from the device you use for an Android Smartphone or Tablet. Flashing any firmware or recovery could cause the device to be damaged.
Credits Samsung FRP Toolis developed for distribution by Samsung FRP Tool's developer. The total credit goes to the creator for sharing the Tool for free.
Download Link:: Mediafire – Usersdrive –Mega – Google Drive – 4shared – OneDrive – Tera Box