SamFw FRP Tool 2.8 Take Samsung FRP off with just one click.
SamFw FRP Tool 2.8 -One Click Remove Samsung FRP. can be described as a no-cost, latest One-Click ADB Enable and Reset FRP tool that allows users to activate ADB USB debugging mode through Samsung *#0*# (Test Mode) and bypass the FRP lock on Samsung Galaxy Android 9, 10 11, 12 devices. This brand-new tool gives users a simple method of unlocking FRP from Samsung within a matter of minutes. So if you're looking for an unpaid tool to reset the FRP lock on your Samsung phone, following these easy steps will allow you to download SamFW FRP tool v2.8 on your PC.
Like, Follow, Subscribe me on :
All Mobile Firmware:: Link
SamFw FRP Tool 2.8 -One Click Remove Samsung FRP
Safe Tool Allowed Users to:
Testing Mode (*#0*#)

MTP Mode

ADB Mode

Download Mode

Odin Flash

Misc
SamFw FRP Tool is a tool that features SamFw:
FRP =>

*#0*#

Eliminate FRP

Factory Reset

Disable Knox

Switch CSC (Beta)
Mode MTP
Open Browser >> Youtube || Google Map || Samsung

browser (Galaxy Store)

Factory Reset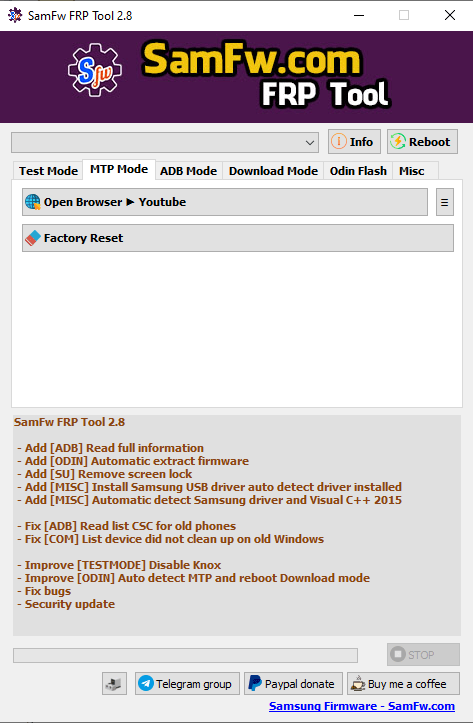 ADB Mode
ADB FRP (Old)

Disable OTA Update

ADB FRP (New)
Download Mode
Exit Download Mode

Soft brick fix

FRP Android 5/6 (Method 1)

FRP Android 5/6 (Method 2)
Odin Flash
BL, AP, CP, CSC, DATA

Reboot

Check MD5

Nand Erase

Flash

Clear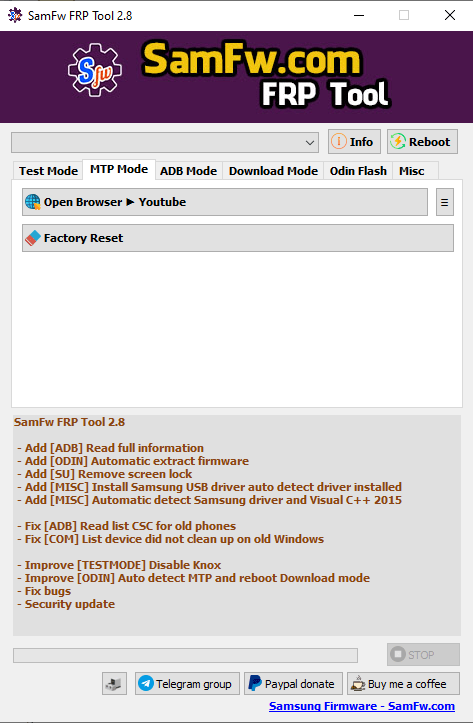 Misc
Check Driver signature enforcement status

Disable Driver signature enforcement

Enable Driver signature enforcement
SamFw FRP Tool 2.8
Changelog!!!
Version 2.0 Update v2.0 25/05/2022
Remove open website step after removing FRP

Fix check ADB connection after enabling ADB

Add Read Information MTP

Enable Knox

Include Factory Reset (2 methods)

Include MTP to Open Browser

ADB Add ADB Eliminate FRP (2 methods)

Add MTP to Reboot
Updating v2.1 27/05/2022
Correct incorrect text after removing FRP and disable Knox

Add Device Manager to open

Fix UI bugs
Updating v2.2 27/05/2022
Improve FRP/Factory Reset/Disable Knox (Fix failure removed, but note that it is not working)
Version 2.3 Update v2.3 28/05/2022
– Repair at USB Connection

Important update Fixing FRP Remove/Factory reset/Disable Knox for new models and older PC. Update as soon as possible!

Update Factory Reset fully automatize
Updating v2.4 3/6/2022
– Add disable drive signature

• Add ADB to disable OTA Update

– Add Open Browser multi options (Youtube/Google Map/Samsung Browser

– Optimize User Interface
Updating v2.5 5/6/2022
optimize the – Optimize ADB function

– – Optimize the Reboot feature

– – Optimize read information function

– – Add the Stop button

– Add Exit Download mode/ Add Softbrick Download mode fix

— Add ADB Add Language

– Fix Disable Drive signature enforcement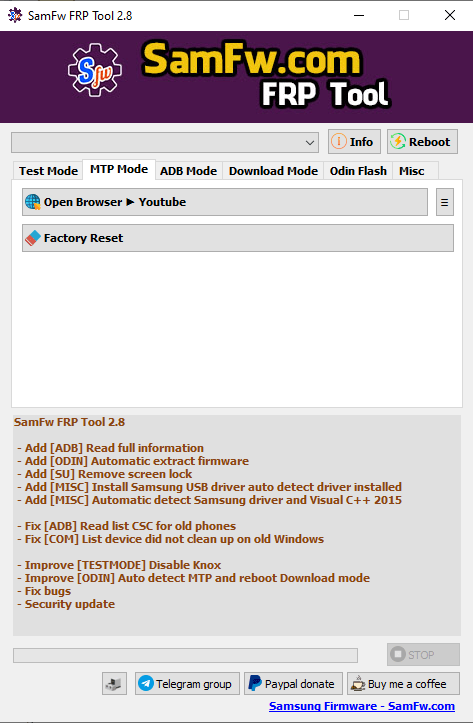 Version 2.6 Update v2.6 7/6/2022
• Add Reboot binary mode (Download mode 0)

– Add read information to the Download mode

+ FRP the old version of Android 5./6

– Add the ability to remove the bloatware Samsung

– Optimize Reset Download mode

– – Optimize Factory Reset

– Fix load libraries problem
Updating v2.7 14/6/2022
– – Add ADB Information about the battery

– Add Odin Flash

– Add ADB reboot/reboot download mode/reboot recovery mode

– Include display COM numbers on the device list

— Add Farsi (Iran) fa-rIR language code

– Add disable driver signature status check

– Add List supported CSC check

– Repair the loading process

fix Read information Download mode

– Optimize the auto-detect of MTP/Download mode when reading information/rebooting
Version 2.7.1 Update v2.7.1 14/6/2022
Version 2.8 Update v2.8 20/6/2022
– Add [ADB] and read the complete details

Add [ODIN] to automatically extract the firmware

– Add [SU] Remove screen lock

– Add [MISC] Install Samsung USB driver auto detect driver installed

– Add [MISC] to automatically recognize Samsung driver and Visual C++ 2015.

– Fix [ADB] read the CSC list for phones with old models

Fix the [COM] List device that did not get cleaned up on old Windows

– Improve Test Mode. Turn off Knox

Improve [ODINAuto detect MTP and restart Download mode

– Repair bugs

– Security update
SamFw FRP Tool
How to Use?
In the beginning, you must first download the file using the link below.

Then, you should unzip all the files on 

the drive c:

 

this is vitally crucial

Then you need to open the folder that you will need to extract the entire file

Use through the " 

SamFw FRP Tool

"

Before using the program, you must install it before using it and download the Samsung USB Driver on your computer.

The tool has the features that are described below.

FRP = Deleting FRP

Before connecting, change the CSC to>>

 Connect your Samsung FRP-enabled smartphone to a WiFi network.

SamFW FRP Tool V2.8 Download Android 9, 10, 12, and 12 FRP ADB enabling One-Click Tool to enable Test Mode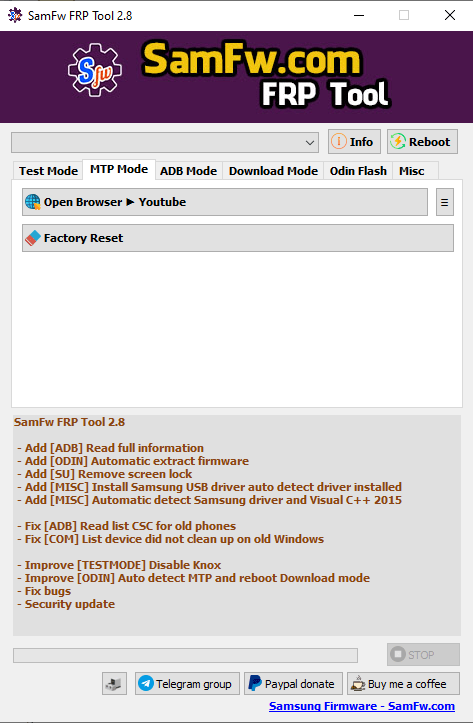 Samsung

Return to the screen to welcome you and tap Emergency Call Press 

#0#

.

Connect to your Samsung Android smartphones to Android 10.9 12, and 11 phones to your Samsung Android 10, 9, 11, and 12

connect to the computer, and the computer and Test Mode will display.

SamFW FRP Tool V2.8 Download Android 9 10 12, 11 FRP ADB Tool Enable One-Click Selection of the COMPORT

Start FRP Tool. FRP Tool.

Select the Port for COM.

SamFW FRP Tool V2.8 Download for Android 9 10 11 FRP ADB – 12 One-Click Tool to Remove FRP

Removing FRP in the FRP Section using"Remove FRP.

The FRP lock needs to be released by pressing Allow at the top of your telephone.

Select Samsung Setup Wizard.

All that's left is
Download File
README:
Compatible: The tool works flawlessly on Windows XP, Windows Vista, Windows 7, Windows 8, Windows 8.1 as well as Windows 10 (32-bit and 64-bit).
Make a Backup: If you are looking to test the tool above, make a backup of your personal information from the device you use for an Android Smartphone or Tablet. Because flashing any firmware or recovery could cause the device to be damaged.
Credit: SamFw FRP Toolis developed as a service by the creator and is distributed through his company. Therefore, all credit goes to the developer who shared the tool for free.
Download Link:: Mediafire – Usersdrive –Mega – Google Drive – 4shared – OneDrive – Tera Box