ST Sam FRP Tool 2.0 Added Samsung FRP Bypass One Click
ST SamFRP Tool is a tiny tool that is designed for Windows computers. It lets users bypass the FRP locks on Samsung smartphones by a single click. The tool works on Windows 7, 10 11 and 64 bit and is fully supported. It is compatible with all Samsung smartphones that run android versions 9-12.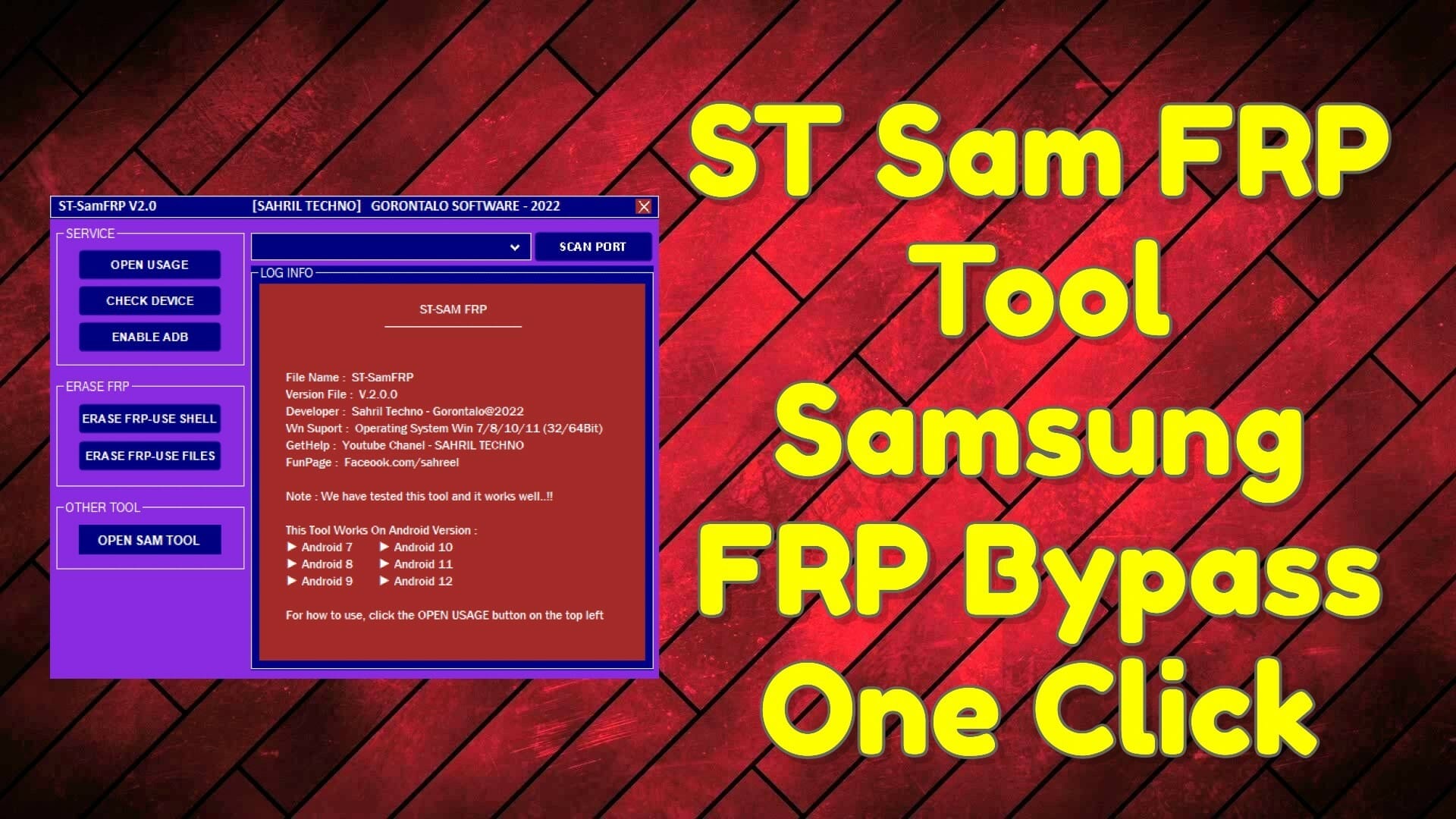 Like, Follow, Subscribe me on :
All Mobile Firmware:: Link
GSM ATOZ TOOL2
In this update, developers have included an Samsung FRP bypass with just one click. There are also new features added. This tool is totally free, you don't have to purchase or require an activation required to use this tool.
Features ST Sam FRP Tool:
Open Usage

Check Device

Enable ADB

Erase FRP Usage Shell

Erase FRP Use Files

Open SAM OLD
Changelog!!
!
Open Samsung Tool is a brand new button within the tool after you have clicked it. It opens a new menu to allow Samsung FRP bypass. Samsung FRP bypass option.
– Device Support (Samsung 1, Samsung 2, Samsung 3)
Samsung 1:-
Every single one of Samsung Brands' old versions (ADB Debugging, Download Mode, and Debugging)
Remove FRP

Remove Cloud

Reboot Download Mode

Exynos and Qualcomm Erase FRP
Samsung 2:- Device Support
(SM-A015F, SM-J415F, SM-A025F, SM-J610F, SM-A115A, SM-M025F, SM-A115F, SM-M115F, SM-A115U)
Port Scan

Load MBN

Erase FRP
To avoid mistakes during execution
Be aware of the steps below..! !
Check that the battery's charge is at or near 50%.

Install Qualcomm driver HS-USB9008 to run 64Bit

Verify that your gadget is set to EDL mode. Testpont
We've tested this tool and it functions exceptionally well.
All risks that arise from operations errors are not our control.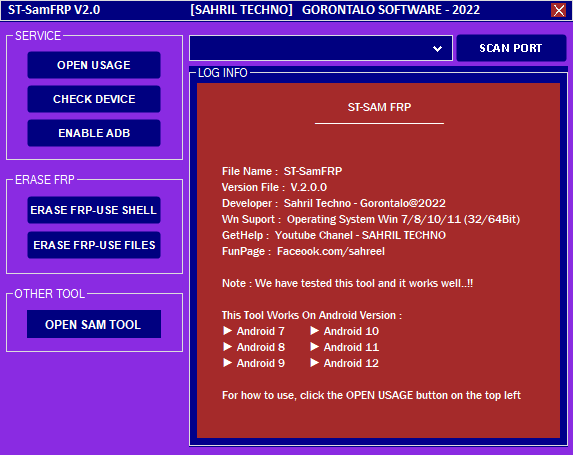 Samsung 3:- Supported Devices
Samsung SM-A115F

Samsung SM-A015AZ

Samsung SM-A115M

Samsung SM-A015F

Samsung SM-A115U1

Samsung SM-A015G

Samsung SM-M115F

Samsung SM-A015M

Samsung SM-A705F

Samsung SM-A015T

Samsung SM-A015A

Samsung SM-A015T1

Samsung SM-A025M

Samsung SM-A015U1

Samsung SM-A015T1

Samsung SM-A015V

Samsung SM-A025F

Samsung SM-A025G
How To Use?
The device needs to have been placed operating in Test Mode.

Make an emergency call Then dial *#0*#
These steps should be followed:
The USB cable to your device.

Click Scan Port, and make sure that the driver is recognized.

Click Check Device (Not Important)

Click Enable ADB (Important)
The next step is:
FRP can be erased in two methods

Erase FRP – Use Shell (Kill Server By Google)

Erase FRP – Use Files (Erase Frp By ADB)
README:
Compatible: The tool is compatible with Windows XP, Windows Vista, Windows 7, Windows 8 Windows 8.1 along with Windows 10 (32-bit and 64-bit).
Create a backup: If you are interested in trying the above tool, make a backup of the personal data on Your Android Smartphone or Tablet. Flashing any firmware or recovery could damage the device.
Credits St Sam FRP Tool was developed as a service by the creator. Therefore, all credit goes to the creator for sharing the tool at no cost.
Download Link:: Mediafire – Usersdrive –Mega – Google Drive – 4shared – OneDrive – Tera Box